Betting
Betting: Could Lukaku be the 20-goal man Man Utd have been searching for?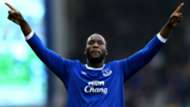 Having failed to agree a deal for Alvaro Morata, Manchester United have turned to Romelu Lukaku to fill the considerable void left by Zlatan Ibrahimovic's departure.
While the deal is not yet agreed, the Everton striker is now odds on to move to Old Trafford this summer - having previously been strongly linked with a return to Chelsea.
Although the deal may disappoint those supporters who were eagerly anticipating the more high profile arrival of Morata, it could prove a thoroughly sensible piece of business by the Red Devils.
Despite only turning 24 in May, the Belgium international already has 53 goals in 110 Premier League appearances under his belt, while the similarly-aged Real Madrid man has struck a more modest 40 in 126 top flight appearances.
Considering he scored 25 for the seventh-placed Toffees last season, bet365's odds of 8/11 (1.73) could prove a sound investment on the forward becoming the first player to score 20 league goals for United since Robin Van Persie in the title-winning 2013-14 season.
In fact, with the likes of Henrikh Mkhitaryan, Juan Mata and Paul Pogba providing him with service, it would be a surprise if a striker that has missed just four league games in the last three seasons would fail to at least match his tally from last campaign.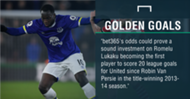 This is reflected in the relatively generous 11/10 (2.10) price available for the former Chelsea man to score fewer than 19.5 goals in the upcoming league season.
Given Jose Mourinho's preference for a team built around a strong target man who dominates the goals, it seems certain that Lukaku would grab at least 20 should he rejoin his former boss.
In fact, even if Chelsea swoop in with a last-minute deal or Everton persuade him to stay for another season, those 8/11 (1.73) odds are not to be missed on a man who guarantees goals hitting at least 20 next season.