World Cup
Pogba has Deschamps to thank for avoiding semi-final ban with France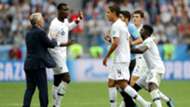 France boss Didier Deschamps acknowledged he needed to step in and calm Paul Pogba in the World Cup quarter-final win over Uruguay out of fears the midfield star could have picked up a ban for the semi-final.
Goals from Raphael Varane and Antoine Griezmann sent Les Bleus into the last four with a 2-0 victory at Nizhny Novgorod Stadium on Friday.
There was a flashpoint in the second half when players clashed following what looked to be a dive from Kylian Mbappe, and Pogba was seen grabbing Nahitan Nandez around the head in the confrontation.
Given the Manchester United midfielder would have been suspended for the semi-final had he received a yellow card, Deschamps was keen to make sure the situation was diffused quickly.
"Things got a bit heated and he had a yellow card and I didn't want him to lose his temper and get a booking for not a lot," he told a news conference. 
"That's what I told all the players: if we go through and get two yellows, and [Olivier] Giroud and [Blaise] Matuidi got their cards [earlier in the tournament] for their gestures, certain words, it's completely unnecessary. You can't be provocative and fall for provocations."
Deschamps was delighted with the result but feels France still have room for improvement ahead of a last-four showdown with Belgium, who beat Brazil 2-1 in Kazan.
"You can always do better," he said. "We've improved points on balance since the last match and all these games are important to build confidence. We're playing a big football nation like Uruguay and this gives us strength.
"We controlled the game, especially in the second half, we didn't give chances to the opposition. The few mistakes we made were not things that couldn't be recovered.
"My players are young but have the right attitude to growing and developing. The technical moves sometimes waste opportunities, so somethings that could become good chances don't become that because that key pass isn't good, but there is such an intense rhythm and so many duels, it was a hard match. This is part of Uruguay's identity, but we also have it, and I'm happy we do."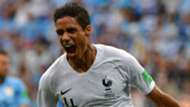 Deschamps reserved special praise for goalscorer Varane, who was beaten to a header by Mats Hummels as France lost to Germany at the same stage four years ago.
"I'm very happy for Raphael, he's gained four years of experience and that's become clear; all these players have grown, they have more maturity, and I think that's necessary," he added.
"It's what I told him because I also suffered in that situation four years ago. This is the opposite today. It's often in the tough times that you learn the most and it's good for him he scored that goal."