NPFL
Plateau United's underwhelming preparations worries Boboye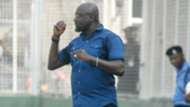 Kennedy Boboye says he is worried by Plateau United's underwhelming preparations ahead of the 2017-18 season.
According to Boboye, the Peace Boys are yet to embark on closed camping exercise two months after they clinched their first Nigeria Professional Football League title.
Also, the Jos outfit have had unimpressive pre-season outings so far and the gaffer fears the trend may continue into the season.
"I can't blame the players for our unimpressive performances in the pre-season. We are yet to proceed for a closed camping exercise up till we speak. Most teams that came to this pre-season tournament arrived from where they have had their closed camping exercise for over three weeks," Boboye told Goal .
"This has not given my players the atmosphere to play up to their optimum. At the same time, I have seen that it is all the players that are on this team that will remain. We will still have to drop some of them for me to look for some other good hands."
The former Nigeria international equally cautions that Plateau United must be prepared if they are to make an appreciable impact in the Caf Champions League next season.
"Of course the expectations have not been met. I don't think we are ready for it yet. If a team like Plateau United that is playing in the Champions League is yet to go anywhere besides Jos for camping up till now is worrisome. It is no magic. You must prepare early enough for you to get what you want," he said.
"Our success last season was because we prepared for last season early. We went for closed camping on time and we did that for close to a month in Abeokuta. Everybody saw what we achieved with that but this time it is all about stories.
"I don't want to be held responsible if the team fails. I have been singing it like a song to them that we should go for closed camping. We came to play in this pre-season tournament because it gave us room to prepare for the Super Six and the league. If we don't go for serious camping for about two weeks it won't augur well with us.
"Everybody wants to be seeing Plateau United winning matches but they don't want to know what is on the ground for the club. We must have a good foundation for that to be possible because without it we will only depend on mere luck. I want us to prepare well so as to win our games but with what we have now, we do not have the zeal to achieve that," he confessed.
The NPFL champions will progress with their pre-season plans as they will join MFM, Enyimba, Akwa United, CHAN Eagles and host Kano Pillars in the League Management Company's Super 6 invitational tournament.