Super League
Panthers desperate for a win, Fighters hit with Azmi's resignation just before MSL round four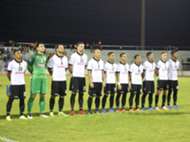 ---
BY         NIK AFIQ        Follow on Twitter
---
Pulau Pinang vs Sarawak
If there is a team that desperately need a win on matchday four of the Malaysia Super League (MSL), it would be none other than Pulau Pinang.
Having lost all three matches with no goals scored and now suffering another blow as head coach Ashley Westwood was suspended for their next three games, the Panthers' season are heading from bad to worse.
Other than the team woes, the management are also in danger of losing the trust of their own fans, after the appointment of local politician Zairil Khir Johari as their new president received backlash from the fans.
The match against Sarawak would be a good chance for Pulau Pinang to collect their first points of the season, as the Crocodiles are also struggling to kickstart their season.
Sarawak have failed to collect any point beyond the one collected in their 1-1 in the opening day draw, but head coach David Usop is hoping that the return of striker Mateo Roskam can change their luck this Saturday.
Mateo suffered an injury after the game against T-Team and he is reportedly ready to be back in action for the game against Pulau Pinang.
Speaking to Utusan Borneo, Usop said: "Mateo's condition is getting better and I am confident that he can return to action against Pulau Pinang this Satudray."
"This is definitely good news to us because the squad can really use his service right now," added Usop.
Both teams are currently occupying the 11th and 12th spots in the league, and a win this Saturday can give a huge boost to the winning team.
Melaka United FC vs T-Team FC
Despite their pre-season spending spree, Melaka United fans are still not satisfied with the team's performance after having only recorded a draw and a defeat in their first two games.
After they impressively secured a 1-1 draw against Selangor, a 3-2 defeat at the hands at Perak has put them 10th in the table so far.
However, team manager Datuk Mohd Yusoff Mahadi believes that Melaka will show their true potential when they welcome T-Team for their first home game of the season.
Although striker Sergio Aguero is set to miss the match due to injury, Yusoff said his team can play to their true potential this Saturday.
According to Bernama, Yusoff said: "(The absence of Aguero) may disrupt our planning but I believe we can answer all of our fans' doubts when we face T-Team tomorrow."
"I believe we are on the rise because the last two matches we managed to fight until the very last minute."
For T-Team head coach Rahmad Darmawan, continuing the momentum after collecting their first win last week is crucial if they want to have a good season this year.
However, he is sweating over import defender, Abdoulaye Youssof Maiga's fitness as the defender suffered a hamstring injury last week.
He is also hoping that Mamadou Samassa can find his rythm again as they do not want to return to Terengganu empty handed.
"If Maiga is not playing, I will have to change our tactics to strengthen our defence, as we know that Melaka have quality players this season," said Darmawan according to Press Reader. 
"Samassa did come to me and say that he is still trying to fit in and adjust himself to our style of play. I believe he will find his form and show his true potential soon."
Felda United FC vs Kelantan
Felda United's preparation for their home game against Kelantan has been hit by the news that head coach, Azmi Mohamed has resigned just 24 hours before the match.
After their failure to win their last two games against Kedah and JDT respectively, Azmi decided to quit, and explained that he wants the Fighters to do better in the league.
"I don't want to be the coach who simply handles the team and accepts any kind of results. I have to be honest and this decision is for the best of the club."
"Personally, I have no problem with the management and I did this voluntarily," said Azmi to Berita Harian.
For Kelantan, this would be a chance for Zahasmi Ismail and his team to continue their momentum, after having recorded a victory in their only game so far this season.
An impressive win against PKNS, and more time to prepare after their game against JDT had been postponed, have placed the Red Warriors in a good condition to defeat Felda.
If the other results go their way, Kelantan could see themselves reaching as high as fourth place after all round four matches have been played.
Read our previews for the PKNS FC-Perak, JDT-Selangor and Kedah-Pahang matches!