Kaizer Chiefs
Patrick Mayo: Kaizer Chiefs should forget about PSL title and focus on Nedbank Cup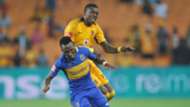 Ex-Kaizer Chiefs defender Patrick Mayo says his former side should solve their scoring problem before they face Cape Town City in the Nedbank Cup quarter-final match.
"Yeah, it's a tough draw and it will be a difficult match, but I am happy they did not get a team from the lower division this time around and Chiefs are at home," Mayo told Goal.
"I think City will be a better opponent because they know each other and they play in the same division. However, that doesn't mean Chiefs must take it easy and say a win is guaranteed," he explained.
"We saw Chiefs struggling against the likes of Tornado and The Magic. These teams want to prove a point and we will do everything against the big guns, but City will be a familiar opponent," reflected the legend.
Mayo believes that the tournament is the only opportunity for the Soweto giants to win a major trophy this season.
"With due respect to all the other teams, Chiefs is the only big team in the competition and they have a very good chance of reaching the final," he continued.
"It's obvious Chiefs are looking to avenge the 1-0 loss in the league against City and they will want to make a statement to say you beat us due to a goalkeeping error," added the former Bafana international.
"Look, they are placed seventh on the log table and that means they must forget about the league title. They should focus on the cup," warned Mayo.
Chiefs have a scoring problem as they netted through an own goal against Tornado and scored in the extra time against The Magic FC.
"My only concern is the lack of goals upfront, but I am confident they can solve the problem before they face City," expressed the former Mthatha Bucks player.
"I am confident that they will create chances, but their conversion rate remains a concern," he backed.
"City coach Benni (McCarthy) is looking for his second trophy and his team is doing very well in the league, but they are not really convincing when playing away from Cape Town - so Chiefs have the home ground advantage," concluded the retired player.