Orlando Pirates
Orlando Pirates defender Happy Jele back in court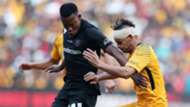 Orlando Pirates defender Happy Jele is reportedly expected back in the Randburg Magistrate's Court on Wednesday.
According to Enca, the 30-year-old will be back in court on charges of reckless driving and exceeding the speed limit in Johannesburg.
Jele was arrested in September for driving at an average speed of 223 km per hour, in a 120 km zone.
Gauteng MEC for Community Safety Sizakele Nkosi-Malobane condemned the soccer star's conduct.
"I am disappointed at Happy Jele's driving behaviour and conduct," she said.
"Professional players are supposed to be role models and safety ambassadors.
"The Law Enforcement Agencies will not tolerate lawlessness on Gauteng roads, especially [not] with the high rate of fatalities reported in the province," she concluded.
Jele has made five PSL appearances for the Buccaneers this season.