Western Sydney Wanderers
Oriol Riera: I would've laughed if I was told Lionel Messi would be the best ever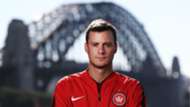 Six years on, an A-League premiership and an Asian Champions League crown later, Tony Popovic finally had the man he had been after all along.
He might not have the same legendary status or CV as Sydney FC's high-profile signing Alessandro Del Piero, but for a club which has failed to knuckle down a high-calibre striker in the past, Oriol Riera's arrival felt like it was Western Sydney Wanderers' own ADP moment.
Since their inception, nine strikers have signed for the club with only Brendon Santalab, Mark Bridge and Tomi Juric having any real success in the position. The rest have all been busts to various degrees including Kerem Bulut, Federico Piovacarri, Joey Gibbs, Ryan Griffiths, Labinot Haliti and Dino Kresinger.
Their 10th striker, it was hoped, would be a success and lead them to the elusive A-League championship.
As things stand though, they could win more than just the league title, the FFA Cup is looking well within their reach too, thanks to Riera, who has made a lightning start to life at the Wanderers with six goals in five matches.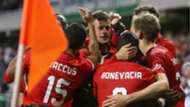 For a player who has played against some of the greatest teams in recent history, it's hardly surprising that he has gotten off to a flyer in the A-League.
The Catalan native grew up in the municipality of Vic, the capital of the comarca of Osona just 69km away from Barcelona. His talent from a young age earned him a move to Espanyol before eventually landing in Barcelona.
"I started to play football when I was five-years-old where in Spain normally, if you're a boy, you begin with football," he told Goal. "My father and all the people around me saw that I played very well, scored a lot of goals and had good technique, so I moved to Espanyol.
"It was there that we realised I could become a professional player. I joined FC Barcelona when I was 10 and moved away from my family to a place that wasn't my home, so my life completely changed just to improve and to fulfill my dream to play in LaLiga."
For kids all over Spain and Latin America, a move to Barcelona's La Masia academy was the dream. But it wasn't easy. The routine for the kids was gruelling and required self-discipline and maturity well beyond their years.
Whilst, in many ways, La Masia is the perfect place for technical development and it was here that Riera also learnt important life lessons. For a club whose motto reads "mes que un club" – that is, more than a club – the emphasis of character development was more important than anything else.
"The focus principally was to teach people to be a good man, to have good character and be a good, solid person," he said.
"If you are not a good man, if you are not a good person, and don't have a good character, you might be the best player at other clubs, but not at Barcelona. After that, they taught us to play hard, to love the game and to love life every day."
Even with all Barcelona had to offer, it was still difficult to make it to the top.
"They have great facilities and we played in the best tournaments in the world, so we had all the capabilities to become a great player. But I have many friends from La Masia who aren't footballers, only 1 in 100 make it to LaLiga. It's very difficult."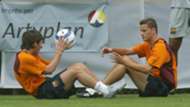 Whilst that ratio may be true in other parts of Spain, it certainly isn't at Barcelona. Indeed, some of his 'friends' – Gerard Pique and Lionel Messi – did make it. His recalls his relationship with the Argentine, in particular, with whom he spent many years with at the Nou Camp.
The pair were roommates too, and although Messi often had little to say, Riera laughs when he recounts the numerous hours the two of them would spend gossiping about particular teenage love interests.
"Pique and Messi are the best players in their positions, but for me they are normal people that like the things we all like and enjoy," he says. "In the past, I spent three years with Messi in the under 19s and then the second team and the first team, we went up and down. He was also my roommate so we spent a lot of time together.  
"We spoke about a lot of things, a lot of it about girls because at that time, I was 17 and Messi was 16 and we liked to talk about that.
"He had two characters: off the field he was very calm, very quiet, he doesn't like talking too much. On the field, he was different, he was the best player, had the ability to get the ball, hold the ball and had all the skills."
Despite the talent, Riera insists if he had been told Messi would one day become the greatest player ever, he would have dismissed it without hesitation.
"If someone told me at that time that Messi would one day be the best player in the world, possibly ever, it would've been a surprise, we would've laughed and said it was false. We knew that Messi would be a player in the first-team and a good player, but not like this. In that moment, it was impossible to believe it.
"At the moment, he is the best player and I think in 50 years, we will talk about Messi as the best player in the history of football. There is no doubt about this."
Following seven years at Barcelona, the La Masia graduate left first for Cultural Leonesa before stints at Celta Vigo, Cordoba and Alcorcon paved the way for a move to Osasuna in the Primera Division.
"For many players, it isn't easy to make it to LaLiga. There is a lot of quality and technical players there. So you you might have to spend time in the Segunda Division before you can get the opportunity to play there.
"I spent time at Celta Vigo and Cordoba, but the team where I learnt the most and improved the most was at Alcorcon. It was the best club and I had the best coach there, who is now at Getafe. He showed the best movements, the best method to score goals and then when I went to Osasuna, then I had all the skills I needed to succeed."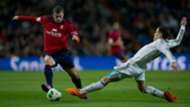 But while Osasuna was plunged into crisis with the club rocked over a match-fixing scandal, it proved to be a fruitful season for Riera, who struck double figures in goals.
"Osasuna was for me, particularly, a very good season," he recalls. "Not for the club, we had a lot of financial problems with the club and the club is now in court due to money and the people who ran the financial transactions. There were lot of problems back then and we went down. But for me, I scored 13 goals, I played all the games and my dream was complete and that was the best."
It was there that he met compatriot Alvaro Cejudo. The pair became best friends on and off the pitch during their time at Pamplona-based outfit. Little did they know that four years down the track, they would be reunited again in Australia, and it was Riera who was on the phone to Cejudo, begging his mate to join him in Western Sydney.
"Cejudo always says to me that if I was not here, he would never come," he boasts, the sentence interrupted by a giggle. "I understand because it's so far for us, he doesn't speak English, not like me. My English isn't good either but better than Cejudo. So if I wasn't here, maybe he wouldn't have come. He's a very good player and he's different to all the players and he's a good friend."
"I think it is most important; to play with friends. Cejudo, is like family, and when we played together and maintained this relationship, it's good because when we are on the pitch, we can speak and try to play together like we used to. We know all the movements and understand how we both play and for the team it is very good."
Enhorabuena por el doblete @ORiera9 en Semis de la @FFACup!!!! 👏🏼
Go @wswanderersfc!!!! 💪🏼⚽ pic.twitter.com/xulnHfs8NQ

— Álvaro Cejudo (@CEJUDO16) September 23, 2017
Riera recounts the day Tony Popovic came calling and he was compelling.The coach spoke of the beauty of the city, the culture of the club and the ambitious project he had in store. It was hard for the Spaniard to resist.
"Before we came, Popovic came and we met together and he showed me what the club wanted, what he wanted and what the life in Sydney is like.  He said the club is young and family-orientated and he wanted it to improve. He told me he wanted Western Sydney to be the best club in Australia and Asia."
So he dived head first into the opportunity. Still, coming to Australia was far from an easy decision; it would be a difficult one for anyone let alone a professional footballer who has spent his whole life in Europe with his family settled and comfortable in Spain.
But after over a decade in Spain's LaLiga and Segunda Division, and a stint at Wigan Athletic, the 31-year-old decided it was time for a change of scenery. The prospect of experiencing a different style of football was enticing, particularly for a man who harbours dreams of coaching one day.
"After last season in LaLiga, I had one year more on the contract, but my family and I felt we needed a change. We wanted to move to another country to learn about a different style of football. I want to be a coach and it was a good way to learn as we only know the Spanish style. It was the time to make a decision and go to another region because after 12 years in Spain, I think it's enough."
"My family has adapted quickly to Australia. We didn't expect this and it was worth the travel, the 24 hour flight," he says. "It's not easy for the kids but we've adapted with schools and teachers and families. We get to enjoy summer in a few months, and we are enjoying the life and the football. We like the change."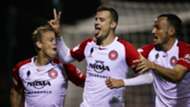 Crucial to his adaption has been the influence of Popovic, who he describes as 'passionate'. But after an unbelievable three months, on the eve of their biggest A-League season with their biggest, and best, team yet, Popovic left. It was a disappointment for Riera personally, he concedes. But for him to opt to move to Europe was a no-brainer – every other Australian coach would have done the same too, he says – and has no doubts his former manager will be a success in Turkey.
"I felt a little bit disappointed when he left because I came here for Popa, to be with him and learn from him," he admits. "But I know that for him, it is a big opportunity and to be a great coach in Europe. All the things that he showed me in the last three months was unbelievable, it was a big surprise and it was all very good. I liked it a lot, so I was disappointed, but life continues.
"I think it is a good opportunity for Popa and it's a good way to improve. I liked all the things that I saw from him. I think Popovic will be one of the best in Europe. He's a leader, he has no doubts about himself and the team, he controls the tactics, the players and I like this kind of coach.
"He needs time, but he has a lot of time to go step by step, but I'm 100% sure he will be in the big European games. He is like every other good coach on the continent, he understands how to play against different teams and styles. The results are there to see."
It wasn't only Popovic who made him feel at home at Western Sydney, however. Riera describes the atmosphere of the changing room as comparable to that of a tightly-knit family. And the fans too have played their part  giving the side 'power'.
"Before signing here, everyone that I called to ask about the club told me we have the best fans in the league. And what I have seen in the cup games and in the league was not a surprise for me because everyone told me. We have very good fans, they dance, they sing for us, it helps a lot and we will need that help for many more games. It gives us power. The RBB are passionate and ambitious. They push the team all the time."
And despite a good start to life in Australia, Riera remains grounded - the best, of course, is yet to come.
"I think the positive thing is that we made history in the semi-final of the FFA cup. We have four points, the best start for the club and we know that and we have to be happy about that."