Australia
Optus Sport's World Cup disaster and how Tony Abbott made it happen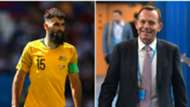 It is the world's biggest sporting event, but Australians have been unable to freely watch the 2018 World Cup over the weekend as Optus Sport struggles with technical difficulties.
Having secured broadcasting rights to every game in Russia, Optus Sport shunted traditional broadcaster SBS to second fiddle but have so far been unable to handle the burden.
Due to supposed IOS issues, frustrated football fans have been unable to access some matches with streams also regularly interrupted as the World Cup quickly turns into a nightmare for Optus.
Social media has been flooded with angry messages with former Socceroo Robbie Slater leading the charge and even urging the Australian Prime Minister to intervene. 
— Robbie Slater (@RobbieSlater17) June 17, 2018
— Robbie Slater (@RobbieSlater17) June 17, 2018
As Optus buckles under the pressure, SBS shined on Saturday as their broadcast of Australia's clash with France attracted a peak audience of 3.4 million.
SBS have previously shown all games of World Cups but will only shown 25 in Russia after being forced into a deal with Optus.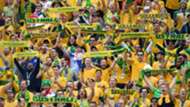 As pointed out by John Stensholt in The Australian Financial Review, SBS secured a deal with FIFA all the way back in 2011 for the right to broadcast both the 2018 and 2022 World Cups for an estimated $20 million each.
Four years later however, with Tony Abbott leading a Coalition government desperate to make funding cuts, SBS found themselves in need of some savings and Optus Sport was there at the right time.
Having just tripled what Fox Sports were paying for the rights to broadcast the English Premier League, Optus struck a reported $8 million deal with SBS that would see the two share broadcasting responsibilities of the 2018 World Cup.
Fast forward to today, and calls have inevitably begun for Optus to hand SBS the full rights to televise the tournament as frustration mounts.
— Dave Hughes (@DHughesy) June 16, 2018
Logistically and financially very unlikely however, Optus simply must put the flames out as it looks to establish itself as a reliable football broadcaster Down Under.
"I apologise unreservedly to all Australians," Optus CEO Allen Lew told Fairfax Media on Sunday.
"We should have done better, we can do better and we will do better."
Having retained the rights to the English Premier League and very close to securing a deal for the Champions League, the telco needs to turn the vitriol around before the company, and more importantly the beautiful game, is damaged irreparably in Australia.