Africa Women Cup of Nations
Nigeria's Dennerby, South Africa's Ellis talk up teams' readiness for Awcon final showdown
Awcon Correspondent in Accra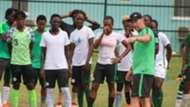 Nigeria coach Thomas Dennerby says his outfit are in high spirits to make up for their Africa Women Cup of Nations opening game defeat to South Africa when they meet again in the final on Saturday.
The two teams are set to rekindle their rivalry at the Accra Sports Stadium, 13 days after the Super Falcons fell to a 2-1 defeat in the first meeting during the group stage.
"If you come to a final, I think there's no problem for the coaching staff to motivate players," Dennerby said at the pre-match conference on Friday.
"If you have a big tournament final, you'll be so motivated in a way. Of course we want to win the game – definitely.
"I know players are all motivated, so I think they'll have a really good performance tomorrow - hopefully and definitely better than the first one.
"About injuries, all players trained yesterday. There're no problems. As at now, there is no player that I can say can't play because of injury."
Nigeria have already faced South Africa three times at the Awcon final. With the two previous meetings going in favour of the Super Falcons, Swedish coach Dennerby is hoping to be the latest man to have a successful go.
"For me, it's the first time I'm coaching on this continent. And then going to the final is a really nice experience," said the 59-year-old.
"No one in the whole world will be happier than me tomorrow if we can go all the way to win the tournament, and that is the biggest thing this year as we have already qualified for the World Cup.
"The coaches, staff, players, everybody will do whatever it takes tomorrow to try to win the cup."
South Africa, on the other hand, already look like a fulfilled side going into the final. Tuesday's 2-0 semi-final win over Mali did not just secure a place in the final but also confirmed Banyana Banyana for a historic qualification for the Fifa Women's World Cup.
"We're prepared. Our aim was to get a World Cup slot," said coach Desiree Ellis.
"We have gotten it but there's nothing stopping us from creating history twice at this same tournament.
"Having gotten this far, it will be naïve not to want to win it but we have to implement our plans very well."
A focused Ellis failed to be lured into the thinking that her outfit will be coming into the final with an advantage simply because Nigeria played extra 30 minutes in the semi-final fixture against Cameroon.
"It will be about how badly you want it. If we're going into a game thinking that their legs might be tired, they've been in this position many times, so we're not going to take anything for granted.
"We're going to make sure that we execute our plans and not worry about the tired legs because it's tired legs all over. With the length of the tournament and the games coming thick and fast, we're going to make sure that we're ready.
"We'll worry about ourselves and make sure we get the result that we want because it's not just for us but it's for everyone back home."
Before this year's group exchange, Nigeria and South Africa last met at the Awcon in 2016, the Super Falcons running out 1-0 victors in the semi-finals.