Africa Women Cup of Nations
Nigeria coach Thomas Dennerby disappointed with Awcon loss to South Africa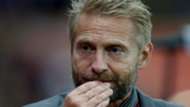 Nigeria coach Thomas Dennerby was disappointed with his side's 2018 Africa Women's Cup of Nations opening 1-0 defeat to South Africa.
Banyana Banyana's super-sub Chrestina Kgatlana's volley five minutes from time, condemned the ill-prepared defending champions to a losing start at the Cape Coast Stadium.
Despite losing on his Awcon debut, the Swede is confident his side will bounce back when they face Zambia in their second group B tie at the same venue on Wednesday.
 
"I am disappointed that we lost the game and congratulations to South Africa," Dennerby said at the post-match conference.
"It was a fair game and I think we [Nigeria] had a bit more of possession and South Africa were really good on the counter-attack and we knew about that, because It was only sad that they scored just the way we've been talking about so much.
"Everybody that saw the game thinks we should have scored at least a goal but after losing the first game, we can't stop having negative feelings," he added.
"We need to prepare and tell the girls it's just the first game, we have to come together and fight because there are two more games that can take us to the semi-finals. 
"We have a very strong team, time is good for us, the more we are together the more we play together, everybody knows we didn't have the best of friendlies but our aim is still there which is to win the trophy and qualify for the World Cup," he explained. 
On the part of South Africa, head coach Desiree Ellis has applauded her side for putting up an impressive showing that stunned the defending champions.
"I said before the match that we [South Africa] needed to be phenomenal and stick to our game plan," Ellis said.
"Even though they had a lot of possession, they did not trouble us except for once which was the moment of our loss of concentration in the first half. 
"In the first half, our passes were going astray and in the second half we needed to make some adjustments. It was bigger playing against Nigeria. The victory is not for us alone but to everyone back home," she continued.
"I think the Cosafa Championship really helped our preparation and strong mentality because we had a tough opposition in Cameroon to play. We got a strong spirit from our comeback against Zambia when we were losing 3-0 and still won the game. It was not by our power but God," she proclaimed.
"It took a moment of brilliance to decide the match against [Nigeria] and it was out of a well-thought plan for the match. It is a big rivalry no doubt, but it was neither about revenge or me but a team effort.
"We needed to start well in the tournament to avoid being on the a back foot. It was certainly a good start for us and we will focused on the next game," the Banyana mentor concluded.