Chelsea
Kante would win a Ballon d'Or if managers decided it, says Conte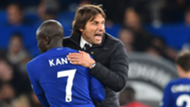 Chelsea manager Antonio Conte thinks N'Golo Kante would win the Ballon d'Or if the award was decided by first-team coaches. 
Cristiano Ronaldo won the award for the fifth time in his career on Thursday. Kante finished eighth in the overall list and was ranked higher than any other Premier League player, with Harry Kane finishing 10th and Eden Hazard 19th. 
Kante won a host of individual honours in England last season for his performances in Chelsea's Premier League title-winning season but was unable to secure any international awards. Conte, a former Italy international, dreamed of winning the Ballon d'Or but thinks that a defensive midfielder will never get the chance to take home the trophy, with attackers dominating the voting.
"When I was a player I wanted to win [the Ballon d'Or], but with my characteristic and my potential, I knew that it was impossible," Conte told a news conference at Cobham Training Ground. "But I won a lot in my career. I won everything. I was captain of Juventus for many years. 
"I lost two finals in the World Cup and Euro Championships but at same time you know very well [yourself] if you can reach level to win Ballon d'Or. I think in our team there are players who can reach this level. Others are not able, like me. Honestly, I don't know if Kante can win Ballon d'Or in his life because for the characteristics of this player.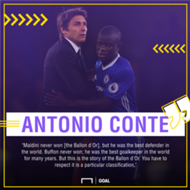 "He doesn't score a lot of goals. He is a great worker. For me, Ballon d'Or is Ballon d'Or, but for a coach, Kante has to win, for every coach. If you ask coaches, we would take this decision. But in reality it would be very difficult for him to win.
"[Paolo] Maldini never won, but he was the best defender in the world. Never won. [Gianluigi] Buffon never won; he was the best goalkeeper in the world for many years. But this is the story of the Ballon d'Or. You have to respect it is a particular classification."
Conte had said that he was surprised to see Hazard ranked at only 19th in the Ballon d'Or list, which is decided by a panel of over 100 journalists for France Football magazine, having earned worldwide recognition. 
Ronaldo and Lionel Messi have shared the award for the last decade, winning it five times each. Conte admits that Hazard needs to work hard ot catch up to the duo, while Paris Saint-Germain forward Neymar is also in the discussion. 
"I am the coach but I think it is right for the player to answer," Conte said. "The player knows his own ambition. For sure [Hazard] is a fantastic player, he is important, but at same I tell you that to win the Ballon d'Or you have to win and in your career you have to win a lot.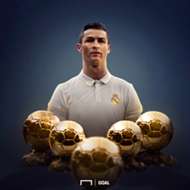 "For Cristiano [Ronaldo], it's the fifth time, like Messi. It means that in the last 10 years it didn't change; two players, three players, because also Neymar. It is not simple but I am talking Cristiano. Last season he won the Champions League, the league. Two years ago he won the Euro championship.
"I think Ballon d'Or is now a topic between these three players. In these players, Ronaldo or Messi, the same with Neymar, you see ... when you see these players, you see a hunger in every moment. Score one goal, they want to score the second. Score a second, they want to score the third.
"They are very hungry and for that reason they are special. They want to win. It is not important if last season Ronaldo won, now if you ask him or Messi, they are going to play another World Cup with the same hunger because they have hunger, They want to win win win and continue. It is not important the past for these players.
"For these reasons, I repeat, I have a great, great respect for these players because to stay at that level you have to work very hard, it is tough. I think now it is not right to talk about Eden because we all know the importance of these players for Chelsea. He is an important player for us and during games he can make the difference for us.
"This is important. But at the same time I am his coach and I try to push him. But not only him I push, I push all of my players to do their best in training. Because if you want to improve in training you can do so in game.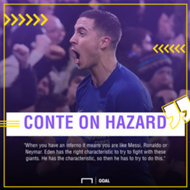 "I like to call it a 'sacred fire', when you have it inside you, the will to win every game to score goals. Every one of us, we have this sacred fire and we have to find the right solution to improve it.
"At this level you must have this type of situation. Then the flame can be big or little. When you have an inferno it means you are like Messi, Ronaldo or Neymar. Eden has right characteristic to try to fight with these giants. He has the characteristic, so then he has to try to do this.
"And to improve his position in this table in the next year. He has the potential to do this but it is not simple to overcome this chance."
Chelsea are facing their sixth London derby match of the season as they visit West Ham United's London Stadium on Saturday afternoon. This weekend's action in the Premier League also sees derby matches in Liverpool and Manchester. 
Conte thinks that the sheer number of derby clashes gives Chelsea a slight disadvantage over their Manchester rivals. 
"I think the derby is always a different type of game, it's always a special game. If you are a team and you stay in London, you must be prepared to play a lot of special games," Conte said. "For sure it is different this type of game.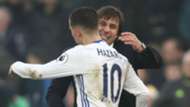 "In Italy, if you are in Turin and there is only one derby, in Milan the same, in Rome. In Manchester, only one game. Here you must be ready to face many teams and I think also for our fans this is a special game.
"I think in this league evey game is very tough but to play during a seson eight to ten derbies is more difficult."