World Cup
'Neymar will never be like Pele' - Brazil star seen by Scolari to be closing on Messi & Ronaldo
Neymar "will never be like Pele", says former Brazil boss Luiz Felipe Scolari, but the Paris Saint-Germain forward is closing on the levels of Lionel Messi and Cristiano Ronaldo.
The 26-year-old is once again shouldering the expectations of a nation at Russia 2018, with the Selecao's star man considered to have unfinished business with the World Cup.
He saw his tournament on home soil in 2014 ended by injury and is desperate to make amends four years later, despite still feeling his way back to top form after returning from an unfortunate foot injury.
Neymar has been among the goals on a global stage, edging him to within 20 efforts of Pele's haul of 77 on Brazil's all-time chart, but Scolari doubts that the PSG ace will ever scale the heights managed by a three-time World Cup winner.
He told El Mundo: "In Brazil, we know who is Neymar and who is Pele.
"We know that there is only one Pele and there will never be another.
"A player can be very good, spectacular even, but they will never be like Pele because he has no heir. Nobody will ever equal him."
While questioning Neymar's claims to a standing alongside an all-time great, Scolari believes that a modern-day icon can become the best of his era.
He has operated in the shadow of Messi and Ronaldo so far, but the Barcelona and Real Madrid superstars are now both into their 30s.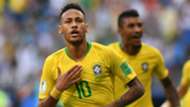 Time is on Neymar's side and he has already shown in his career to date that he boasts the potential to become the next figure to monopolise Ballon d'Or and FIFA Best votes.
Scolari said when asked if a fellow countryman can match Messi and Ronaldo: "At Barcelona, he evolved a lot and he almost reached their level.
"But it is not something that happens from one day to the next. He is on the right road but he still needs time.
"Perhaps in one year or two he will be at their level."
Neymar will be back in action on Friday when Brazil take on Belgium at the quarter-final stage of World Cup 2018.