A-League
Newcastle Jets - Brisbane Roar Preview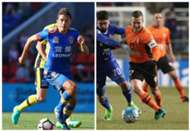 Will a weary Brisbane Roar have enough gas left in the tank after their AFC Champions League (ACL) debacle to fend off Newcastle Jets, who have the A-League finals in their sights?
SQUADS
Newcastle Jets squad: 2.Daniel MULLEN, 3.Jason HOFFMAN, 4.Nigel BOOGAARD (c), 5.Ben KANTAROVSKI, 6.Steven UGARKOVIC, 7.Andrew HOOLE, 8.Mateo POLJAK, 9.Aleksandr KOKKO, 10.Wayne BROWN, 15.Andrew NABBOUT, 16.Nicholas COWBURN, 18.MALeilei, 19.Morten NORDSTRAND, 20.Jack DUNCAN (gk), 22.Lachlan JACKSON, 23.Devante CLUT, 28.John  KOUTROUMBIS, 50.Tomislav ARČABA (gk)
**two to be omitted**
Ins: 4.Nigel BOOGAARD (returns from suspension), 10.Wayne BROWN (returns from suspension), 18.MA Leilei (returns from suspension), 20.Jack DUNCAN (gk) (returns from injury)
Outs: 29.Joel ALLWRIGHT (omitted), 30.Pierce CLARK (gk) (omitted)
Unavailable: 1.Ben KENNEDY (gk) (achilles – season), 21.Daniel ALESSI (knee – season)
Brisbane Roar squad: 1.Michael THEO (gk), 5.Corey BROWN, 6.Avram PAPADOPOULOS, 7.Thomas KRISTENSEN, 9.Jamie MACLAREN, 10.Brett HOLMAN, 11.Tommy OAR, 13.Jade NORTH, 15.ARANA, 17.Matt MCKAY (c), 19.Jack HINGERT, 21.Jamie YOUNG (gk), 22.Thomas BROICH, 26.Nick D'AGOSTINO, 28.Brandon BORRELLO, 29.Joe CALETTI, 46.Cameron CRESTANI, 50.Dane INGHAM
**two to be omitted**
Ins: 5.Corey BROWN (returns from injury), 6.Avram PAPADOPOULOS (promoted), 11.Tommy OAR (promoted), 15.ARANA (promoted), 26.Nick D'AGOSTINO (promoted), 50.Dane INGHAM (promoted)
Outs: 16.Nathan KONSTANDOPOULOS (not selected), 20.Shannon BRADY (not selected), 25.Kye ROWLES (not selected), 33.Joey KATEBIAN (not selected)
Unavailable: 3.Luke DEVERE (calf – 3 weeks), 4.Daniel BOWLES (knee – season)
BLUFFER'S GUIDE
By the time Roar walk – or perhaps trudge - off McDonald Jones Stadium on Sunday, it will signal the conclusion of 11 matches in 43 days - a game every 3.9 days since January 21 across Australia, New Zealand, China and South Korea. 
It's been a tiring adventure.
Aloisi: Schedule caught up with Roar
It began in Wellington with a precious win across the ditch and they'll hope to bookend this football journey with another three points to maintain their push for a top-four finish and hosting rights in the first week of the A-League finals.
But John Aloisi's men arrive in the Hunter on the back of a 6-0 ACL smashing in South Korea on Tuesday.
How they recover mentally and physically will be the big question.
By kick-off, the Jets will know whether a win will vault them past Western Sydney Wanderers into sixth spot.
Jones challenges Kokko to cement starting spot
With six rounds left, there are realistically four teams that could claim the last finals berth but with four of their remaining games on the road, Newcastle must make the most of this match in front of their own fans.
Three players - captain Nigel Boogaard, plus Wayne Brown and Ma Leilei - return from suspension to take on Brisbane after missing last week's 1-1 draw with local rivals Central Coast Mariners through suspension.
The visitors will regain the services of full-back Corey Brown, who has missed four games with a hamstring injury, while new signing Avram Papadopoulos will also look to shore up a defensive unit that was ripped apart by Ulsan during the week.
ROUTE TO GOAL
For the Jets, five goals scored in their last five games suggests they'll need more cutting edge.
Aleksandr Kokko headed home his first goal of the season versus the Mariners and you sense he'll want to make up for lost time as the Jets look to end their six-year run with finals football.
The addition of Wayne Brown and Ma Leilei will also add some long-range shooting and creativity into the mix for Newcastle.
For the visitors, Thomas Broich's form in recent weeks has been eye-catching and the two-time Johnny Warren medallist leads Roar for chances created (40) and assists (4).
With Jamie Maclaren, Arana, Brandon Borrello and Tommy Oar having started in the attacking third against Ulsan, expect Aloisi to bring in Broich and Brett Holman against the Jets.
WHO'S BEEN IN THE SPOTLIGHT THIS WEEK
Andrew Hoole. The Jets have withdrawn a contract offer because the winger won't agree to a buyout clause, meaning Hoole - who is attracting interest in Europe - could leave the club for free at the end of the season.
FORM LINES (all competitions)
Newcastle Jets: WLDLD
Brisbane Roar: DDDLL
PREDICTION
Newcastle Jets 2-1 Brisbane Roar