KPL
Nakumatt striker not giving up on Golden Boot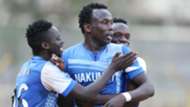 Nakumatt FC striker Kepha Aswani is confident he can still land the Golden Boot this season.
The ex-AFC Leopards man is still in the race having notched 13 goals, four behind Masoud Juma. But Aswani says he will give his best and hopes he can get four in the last league match and surpass the Kariobangi Sharks striker.
"Well, I have not given up at all, I believe this will go down to the final match. Him (Masoud), leading is enough motivation to me; it means I have to work harder in my last match, and who knows, I can hit four goals. Football is sometimes funny, things do change when least expected."
Coincidentally, Aswani will come face to face with Masoud (Juma) at Ruaraka Grounds considering the Shoppers will be playing Sharks in the final match of the season on Saturday.