N. Thanabalan
Thana reveals fear of being forgotten, after scoring first MSL goal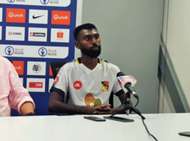 ---
BY        ZULHILMI ZAINAL       Follow on Twitter
---
Negeri Sembilan forward Thanabalan Nadarajah scored his first ever top-tier goal, when he netted Negeri Sembilan's only goal in their 2-1 defeat to Selangor in their Malaysia Super League (MSL) match on Saturday.
His performance, scoring only two minutes after he was brought on in the 61st minute, earned him praise from head coach Azraai Khor Abdullah. But in the post-match press conference, the Malaysia U-23 star revealed that following a good turnout in the 2018 AFC U-23 Championship back in January, he has had to struggle with a long lay-off, and worried that he would be sidelined at the club.
"Tonight I scored my first goal (for Negeri in 2018), but I hadn't been playing regularly this year due to injuries I picked up in China (the AFC tournament). That was followed by a fever, recovery and yet another injury, resulting in me being sidelined from the first eleven.
"I had to work hard in training in order to recapture my form, and I had to keep in mind that the longer I don't play, the longer I will drop off everyone's radar.
"Today's a little disappointing, to be honest. We really thought we could win as we've been working really hard in training, it's a shame that we couldn't even get a draw," revealed the 23-year old.