Phil Neville
'Mum never offered me the job' - Phil Neville rules out Bury move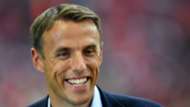 Phil Neville has played down talk of him being appointed as the new manager of Bury - because his mother has not given him the job!
Neville's mother is employed by the League One club, and despite being the favourite with the bookmakers, the former Manchester United defender claims that he is not in line to manage the Shakers.
The Zlatan show gets another season
"My mum is the club secretary, I spoke to her four times today and she's never offered me the job so I don't think I've got a chance," Neville told BBC Radio 5.
Despite ruling himself out of the running for the job, which also has Neville's former teammate Ryan Giggs among the favourites, the former England international was full of praise for the setup at Bury.
"They have good owners at Bury, they've got a good future, they plough money into it. They have a fantastic training ground," Neville continued.
"I keep reading reports that I'm going to be the next manager of Bury. I am not going to Bury. I will not be manager of Bury, I can assure you of that."
Neville is currently unemployed after a spell as the assistant manager of Valencia. The 39-year-old was also a first team coach at Manchester United and had a short stint as caretaker boss of National League side Salford City.
Mourinho: Messi must stay at Barca
The Neville family have strong links to Bury, with Phil's father Neville Neville involved in the club as a director, who famously helped them battle administration.
In 2015, Bury announced that it had renamed the main stand at Gigg Lane to the Neville Neville Stand in his honour.