Victor Moses
Moses hails 'massive' win as Chelsea down Arsenal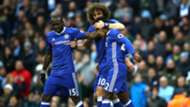 Victor Moses hailed a "massive" win in Chelsea's season after they beat Arsenal 3-1 in the Premier League on Saturday.
Goals from Marcos Alonso, Eden Hazard and Cesc Fabregas subdued the Gunners who got their consolation courtesy Oliver Giroud.
Moses, who was imperious at the rear, took to Twitter to praise his side's win while thanking the fans for their supports.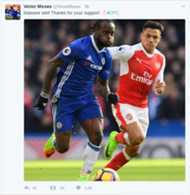 ''Massive win! Thanks for your support,'' he tweeted.
Chelsea, with 59 points – nine points ahead second placed Tottenham Hotspur face Burnley on February 12 at Turf Moor.