NPFL
Money not a motivation for MFM move - Oche Salefu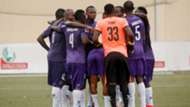 Even though many see money as the solution to all problems, for Ochefu Salefu, having fat bank accounts is not primary as he continues his quest to become a better player at new club, MFM.
The player has just completed a loan move from Remo Stars to the Fidelis Ilechukwu-tutored side and the midfielder explains he could have become a player of one of the leading clubs in the Nigerian topflight league had his move to the Olukoya Boys driven by love of money.
"The decision was taking with my family. I spoke with my mum, siblings and my uncles and they advised that it was best I come to play in Lagos where they can watch me very well and also watch the Caf Champions League too," Ochefu told Goal .
"Of course they gave me better deals in other clubs but I just decided to stay in Lagos with MFM. I didn't go for the money because if it was for the cash I would have gone to one of the big teams. I still want to mature more before moving to a bigger team."
Ochefu informed that he is aware of the pressure associated with leaving a modest club like Remo Stars to play with MFM who placed second in the league in the 2016-17 season but that his knowledge of his new teammates before coming over to the team will help him to settle down quickly.
"I don't think there will be any added pressure. Before I came to MFM, I know almost everybody there before coming in to join them. I believe I can hold my own and give a good account of myself," he stated.
Ochefu won the LMC Wonder Goal award last season while with Remo Stars and he notched four goals in their futile bid to remain in the topflight beyond their debut season.