NPFL
Mohammed Babaganaru vows to improve El Kanemi Warriors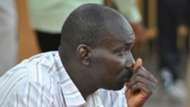 El Kanemi Warriors new tactician, Mohammed Babaganaru has hinted that the style of play of the Borno Army won't be different from that of last season but that he has come to infuse winning mentality to ensure that they do not struggle next season.
The Borno Army were dogged by relegation battle for the most part of last season but they were left off the hook when the League Management Company and other major stakeholders agreed that the league season be brought to an end after the crisis in the leadership of the Nigeria Football Federation forced the unpopular decision.
With the former coach of the team, Imama Amapakabo distracted by the Super Eagles job, El Kanemi Warriors were not consistent and it affected their results both home and away.
"El Kanemi Warriors are one of the top-rated teams in the league and I am delighted to work here," Babaganaru told the media.
"My objective now is to work hard and build from where my predecessor has stopped. He has done a great job with the boys. He played a great role in ensuring that El Kanemi Warriors played with an identity and it is the same thing I plan to do too to ensure that El Kanemi Warriors are a delight to watch and achieve positive results too.  
"I also want to appreciate the club chairman for giving me the opportunity to work with him here. I want to assure them that they are going to see a renewed El Kanemi Warriors that won't struggle like they did last season."