Manchester United
Mkhitaryan proving more important than Zlatan in Man Utd's European charge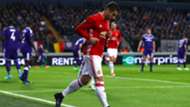 ---
COMMENT
---
Manchester United continue to edge ever so slightly closer to the Europa League crown and the Champions League pass which comes with it after a 1-1 quarter-final first leg draw over Anderlecht on Thursday. And once more it was Henrikh Mkhitaryan who led them through an imposing fixture with a crucial away goal.
While Leander Dendoncker's late equaliser took some of the shine off United's performance, Mkhitaryan's first-half effort ensured that Jose Mourinho's side head to Old Trafford next week in the box seat. What's more, the Armenian is fast usurping Zlatan Ibrahimovic as the face of this European run.
Mou: I'm not bothered if we finish eighth
Just as he did in the previous two away knockout games, Mkhitaryan grabbed the decisive goal in the first half. At Saint-Etienne he poked home a strike which killed the remaining intrigue in the tie after United's 3-0 first-leg win, while in Rostov it was his away goal that put the Red Devils at ease on an awful pitch.
Here he turned home from a narrow angle after goalkeeper Ruben parried Marcus Rashford's initial shot to cap a fine 20-minute spell by the visitors and again take the sting out of a difficult European trip. Add in his second-half strike which gave United breathing space in their final group fixture away to Zorya Luhansk in December, and Mkhitaryan has four key goals in the last four trips to the continent.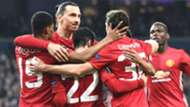 If some of United's Europa League adventures have come across as uninspiring it is entirely because Mkhitaryan has been so good at popping up at vital moments to put the Red Devils into a more comfortable position. Thanks to him they have been able to take command of games and dictate the pace of proceedings, and it is a knack they could do with continuing in the rounds to come. Without such goals they might have found themselves having only a top-four spot as a target right now.
With only seven other teams left in the pot and United taking an away goal home with them, there is every reason to believe they are the outstanding side remaining in the competition. Mourinho has spent much of the season telling anyone who has asked him about the Europa League that it is only once you reach the quarter-finals that you can really start to consider it a focus.
Since making it this far the manager has said this would be the preferable route to the Champions League, and with every passing game they look increasingly capable of winning the competition with a little bit to spare.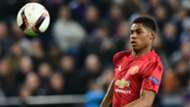 As European tournaments reach their latter stages it is often the presence of a bona fide match-winner which can tilt the scales in a team's favour and United are swimming with them on Thursday's evidence.
Zlatan: I'm not a king, I'm a god!
With Marcus Rashford causing all sorts of problems with his pace, Paul Pogba bossing the midfield alongside Michael Carrick and Zlatan Ibrahimovic providing the spearhead, Mourinho had plenty of star turns pulling the strings. And then there was Mkhitaryan. Again.
Many have spoken of the poetic vision that may await in Stockholm come May 24 if Ibrahimovic gets to head United's challenge for the trophy on home soil, but this Europa League run is increasingly becoming Mkhitaryan's story rather than Zlatan's.