Liverpool
Mignolet opens up about Liverpool future, 'unbelievable' Salah & life as Klopp's No.2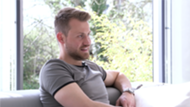 Simon Mignolet tells a story from his time at Sunderland which sums up the way a goalkeeper's life can turn in a second.
It was New Year's Eve, 2011. Mignolet was at home with his family, celebrating. Sunderland were playing Manchester City the following day, but he would not be involved. He was recovering from injury, a broken nose and fractured eye socket suffered in a collision with Emile Heskey. He hadn't played in two months and had trained only with the aid of a protective mask.
Then, with the clock ticking towards midnight, a phone call.
"They said 'Simon we need you at the hotel'," he recalls, in an exclusive interview with Goal . "The goalkeeper was taken ill and they asked me would I give it a go.
"I did and we kept a clean sheet, won the game and after that I had my best times at Sunderland. That shows you how things can change."
These are testing times for the Belgian. While Liverpool's seemingly unstoppable march to the Champions League final – apologies to those of a Roma persuasion – has Europe enthralled, Mignolet is in the background. He's the backup; he watches and he waits. Loris Karius is the man with the gloves and the No.1 shirt.
"It's frustrating, of course, because you want to be a part of it," Mignolet says. "But you have to fight to be a part of the team.
"Unfortunately, it's a part of football that you have to accept the decision of the manager when you're not playing, no matter how difficult it might be. After that it's about the team and the club and trying to push them forward."
Mignolet knows that there are plenty who expect him to leave Liverpool this summer. He knows that, having recently turned 30, the life of an understudy is not one which appeals to him in the long term. He also knows that giving up, switching off or sulking is not an option. He knows how quickly the landscape can change.
"It's a different challenge for goalkeepers," he says. "It's more about being mentally ready and confident to step in when you are needed.
"I can't say to the gaffer 'well I haven't played for three months, I'm not ready!' That doesn't work. I have to work as I would, or even harder probably in training so that if anything happens I am 100 per cent ready to come in.
"From my perspective it's about supporting the rest of the lads, from the bench and in the dressing room. It's not easy because you want to be part of it, but at the same time you don't want to make the atmosphere difficult, or make things harder for the lads who are playing.
"I just try to focus on my own job, work hard in training. And by doing that I am hopefully ensuring that everybody stays on their toes and that adds a little bit to the team."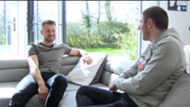 He laughs at the idea that there is any kind of antipathy towards Karius, the goalkeeper signed by Jurgen Klopp to take his place. Mignolet fought back to displace the German last season, but has been unable to do so this time around. He and the rest of Liverpool's goalkeeping department share a good relationship - they have their own fines system in training, and try to socialise as a team every couple of months.
"That's how life is," he says. "The outside world will always see it as a rivalry. But we are team-mates. "We have the same objective.
"Wardy [Danny Ward] said it at the beginning of the season, our job is to give Liverpool the best goalkeeper they can have. And that means not one, not two, but the whole goalkeeping department. You can only do that by working hard, pushing each other on. After that it's up to the manager to pick the team."
Still, it must be galling to watch as his team-mates tear up Europe. Mignolet, after all, played a significant role in Liverpool qualifying for this season's Champions League.
"I do feel I played my part," he says. "I go back to last season, the winter time. It was not sure that we would reach the top four. We had to fight a lot of hard battles and dig deep.
"I remember those games away from home, Watford, Stoke, West Brom. We had to get through those games, and I played my part in that.
"Then we had Hoffenheim [in the qualifying round], and that was tough. Away from home in that first 30 minutes, anything could have happened. I saved a penalty, we were under the cosh, but we got the job done. And ever since, we have played a really good tournament."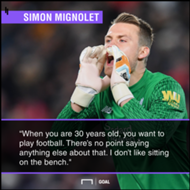 He can say that again. With Mohamed Salah leading the charge, Liverpool look bound for Kiev. Their 5-2 win over Roma in the semi-final first leg on Tuesday was the latest in a long line of remarkable performances this season.
It's not ideal watching from the bench, of course, but at least it gives Mignolet a prime seat from which to enjoy the madness.
"Since we started the Champions League campaign, we knew we could go far," he says. "We're a cup team. Over two legs, we have shown we can cope with it.
"We said from the beginning that we can beat anyone and that we don't need to be scared of anyone, especially with the quality we have up front. Over two legs, that gives us a great chance in any tie. We've seen that in us reaching the semi-finals.
"And hey, once you're in the semi-finals, you don't want it to end do you?"
That front three, of course, is what the Reds' success has been built on. Between them, Salah, Roberto Firmino and Sadio Mane have now scored 88 goals this season. Salah alone has 43 and his remarkable campaign shows no sign of slowing down.
"When he came, everybody knew he was a good player, but not many thought he was going to bang in the goals he has – as a winger, also!" Mignolet smiles.
 "Why he's so unbelievable, for me, is that first of all he plays on the wing yet he comes in and scores all these goals. And secondly, he also holds the ball up really well, which is special for a guy who is not the tallest. He is very strong on his feet, you can't get the ball from him even with his back to goal, and that makes it a lot easier for the defence to give him the ball and then push up after that.
"His work rate too, is spot on. Like Bobby and Sadio, they are as important defensively as offensively for us."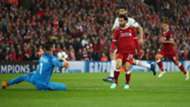 He adds: "All three of them love their football, and love working hard. You can see that in the games they play, and it's the same in training.
"Sometimes with a superstar, you might think they take it easy in training but it is definitely the opposite with those three. They enjoy every second of football they can play, every goal they can score, at whatever stage it might be. They are always 100 per cent in training.
"Facing them every day is not only a joy but, from my perspective, a big challenge. You can learn a lot from players like that."
At the other end, too, there has been progress, the arrival of Virgil van Dijk changing things for the better.
"He was worth the wait!" Mignolet says. "He's a leader. He makes sure we're organised or that we push up, and then his presence physically with high balls is big. He clears the danger before it's even happened, most of the time!"
Liverpool's @SMignolet opens up about his future, 'unbelievable' Mo Salah & how he hopes to achieve great things at Anfield. Full exclusive by @neiljonesgoal: https://t.co/pqYHEsEmtI pic.twitter.com/2puw0NeTsa

— Goal (@goal) April 26, 2018
As for the future, that is less clear. Mignolet knows that there are big games to come, for club and country. The Champions League final looms, as does the World Cup. He may be on the bench for both, or things could change. He will be ready if they do, he says.
And beyond that, who knows?
"When you are 30 years old, you want to play football," he admits. "There's no point saying anything else about that. I don't like sitting on the bench because I get more nervous there than when I am playing!
"It's nothing for me. Of course you want to play, but I have three years of contract and I am a Liverpool player. The only thing I'm thinking about is my training, the big games coming up and the World Cup with Belgium."
You get the impression he's telling the truth. The life of the backup goalkeeper is a strange one, but some live it better than others. He may not be playing a starring role any longer, but Mignolet's professionalism is an example to all.