NPFL
MFM midfielder Chijioke Akuneto reveals goal target after scoring against Enyimba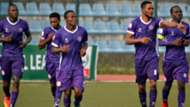 MFM midfielder Chijioke Akuneto has revealed the minimum number of goals he hopes to score before the end of the season.
Akuneto's 56th-minute strike earned the Olukoya Boys a point against Enyimba in one of the matchday 13 fixtures in the Nigeria Professional Football League (NPFL) played on Sunday at the Soccer Temple, Agege Stadium.
It was the fourth goal of the season for Akuneto and the midfielder told GOAL that he hopes to take his tally to at least 10 before the end of the season.
"At least before the end of the season, 10 goals is not too much, I know with that and more from my teammates, MFM will make it to the playoffs and we see how it goes from there," Akuneto stated.
With 13 games already played, Coach Fidelis Ilechukwu's side still have nine games in the regular season before they know their fate if they will make the Super Six playoffs.
Akuneto who is pained because of the dropped points against Enyimba assured that he and his teammates will work to get something in Ilorin against Kwara United in their next outing.
"Dropping a point at home is not what we planned for but you know sometimes in football results will not just go your way but I believe we will bounce back against Kwara United," he said.
Despite failing to win at the weekend, the Olukoya Boys maintain top spot in Group A of the NPFL standings with 23 points from 13 league games while Enyimba are three points adrift in the second position with 20 points also from 13 matches.