Kagera Sugar
Mexime questions player's attitude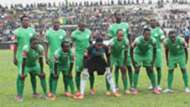 Kagera Sugar Head Coach Mecky Maxime has accused some of his players of giving up during their heavy 3-0 defeat in the hands of the Young Africans. 
Mexime told Goal his team is in a bad position on the table and worse is that some of players lack the right attitude.
The result leaves Kagera Sugar just three points clear of the relegation zone following a dismal run of only one win in their last 20 games, causing Maxime to call the attitude of his players into question.
"When you are losing 3-0, you have to try, and I think we tried to be in the game, to score one, but we were never a threat to Yanga. The spirit of the team and the attitude is everything we have been talking season.
"You can have good players, you can have a budget, but without personality and spirit, it's really difficult to compete at this level" concluded Mexime.