Croatia
Messi can be stopped, Iceland showed that – Lovren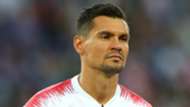 Dejan Lovren says his Croatia side are fearless ahead of their World Cup clash with Argentina on Thursday.
The Croats lead Group D after one round of matches, thanks to a 2-0 win over Nigeria. Meanwhile, the South Americans were stifled to a shock 1-1 draw against Iceland.
During that encounter, Lionel Messi gave a surprisingly off-key display, even seeing a penalty stopped, and while the Liverpool centre-back remains respectful of the 30-year-old, he has drawn inspiration from the manner he was stopped.
"They have one of the best players in the world, maybe the best, in Messi, but when you saw their game against Iceland, they did a great job and showed how to defend against him," he told the Liverpool Echo.
"You can't stop him with one player, you have to defend like a team. You saw that with Iceland."
The experience of facing such a challenge is one that Lovren is relishing.
"We know how to play against the big teams and we are not scared of them," he said.
"It's an honour, of course, to play against the biggest players in the world. A few weeks ago, I played against Cristiano Ronaldo [in the Champions League final], two weeks ago it was Neymar [in a friendly] and now it's Messi. That's something you want to do from childhood – to play against the biggest."
Croatia's place in the last 16 will be virtually guaranteed if they beat the Argentines, who will face a nervous fight to qualify if they fail to win.