A-League
Kevin Muscat and Melbourne Victory answer critics with gutsy performance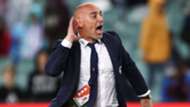 "When the time is right, the big games, we come through."
Kevin Muscat's words summed up how Melbourne Victory shocked Sydney FC to qualify for their sixth A-League grand final.
They simply got the job done - at times against all odds.
In a season of inconsistent performances, Victory have hit their straps at the right time of year and it's a credit to Muscat and his coaching staff for getting the club to the big dance.
He proved me wrong too.
With Victory failing to win any of their first seven competitive matches season, I believed it was time for Muscat to move on at the end of the season.
The club did have a disrupted start to the season, with players such as Mark Milligan, James Troisi and Kosta Barbarouses absent on international duty, but that sequence of results was not good enough for a team of Victory's calibre.
After a resurgence through November, December and January, Muscat's side again suffered an alarming dip in form, failing to win during a five-game stretch that included home defeats to Sydney FC and Brisbane Roar.
Club chairman Anthony Di Pietro made it clear, even before this run of poor form, that Victory's season had not been 'good enough' and there were 'no excuses'.
"I stand here with no excuses, it's not good enough..." #MVFC pic.twitter.com/JnidsbgpYt

— Melbourne Victory (@gomvfc) February 2, 2018
The supporters agreed, with their discontent at the situation growing louder through booing at matches and social media tirades.
After Victory lost their third league game in a row against Brisbane, you felt as if losses in the next two matches versus Adelaide and Melbourne City would end their season.
But helped by a week off in the A-League to deal with the Asian Champions League, Victory won those two games against their rivals and started a revival that has seen them only lose two league matches since - both by a single goal away from home to Perth Glory and Sydney FC.
While the fans and critics may have doubted Muscat, it's clear the club did not - handing Muscat a two-year contract extension.
It was also plain to see the players' feeling toward their coach. When Leroy George scored against Adelaide in February, he made a beeline for Muscat, celebrating with him and showing his support.
The most noticeable factor present in Victory's recent games is the extraordinary resilience shown in late stages of matches.
In the month of April, Victory has won three games with a goal in the final five minutes - Kenny Athiu's header against Wellington, Besart Berisha's bicycle versus Adelaide and the stunning run from Terry Antonis that sunk the Sky Blues.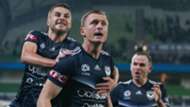 Saturday night's win against Sydney FC was also achieved without defensive leader Rhys Williams, midfielders in Leigh Broxham and Stefan Nigro occupying the full back roles and the absence of James Troisi, George and Berisha during extra time.
Take into account the psychological blow of Antonis' own goal equaliser with 13 seconds of normal time to play, and you start to realise how unbelievable this win really was.
It would have been a deserved victory in the 90 if it had of gone down that way. Despite the last 20 minutes when Sydney launched an all-out assault to snare an equaliser, Victory were the better team away from home against an opponent they have lost seven matches against.
Muscat has been criticised this season for not using his substitutes wisely, but over the last month he has shown a new-found faith in the fringe squad members and they have repaid him.
It was a gutsy move to take off George, Berisha and Troisi in the last 15 minutes but it was the right decision.
Their replacements all made positive contributions. Athiu held the ball up superbly on occasion and was a handful for Sky Blue defenders, Christian Theoharous provided a counter-attacking outlet down the left and Matias Sanchez added some much-needed steel to a central-midfield area that was under constant siege.
Post-match, Muscat allowed himself a moment of reflection before immediately focusing on the trip to Newcastle this week.
"You can't tell me we don't deserve it. Our record speaks for itself. We'll enjoy tonight, but it will be quickly back down to business," he said.
And that business is a trip to McDonald-Jones Stadium - a venue they have only won once at in the last nine years.
But hoodoos and bad records are there to be broken, and they won't count for anything when the whistle is blown to commence Saturday night's match.
---
Jason Hoffman completes full circle to sink Melbourne City
---
You have to be a long-time A-League fan to remember Jason Hoffman's first stint in the competition.
He began his career as an 18-year-old striker for Newcastle Jets in 2007, but after managing only two goals in 14 appearances over three seasons, he was released.
After a short in the Victorian NPL with Richmond, Hoffman earned a second chance at Melbourne Heart under John van 't Schip, who turned the player into a serviceable full-back.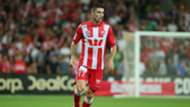 Following five good seasons of service in Melbourne, Hoffman returned to the Jets as a full-back for the 2015-16 campaign and endured two seasons of misery.
This campaign, after prolific performances for the Jets youth team in front of goal, Hoffman was given an opportunity in Newcastle's attack after injuries to Ronald Vargas and Roy O'Donovan.
The 28-year-old has proved to be an experienced head in attack, scoring six goals, including the winner against Melbourne City on Friday night.
Hoffman has long proved a thorn in Melbourne Victory's side over his years as a Melbourne Heart/City defender.
Expect him to start in attack on Saturday as coach Ernie Merrick again looks to experience in his starting XI.