I-League
Meet Surajit Nandi - The die-hard Mohun Bagan fan who travels to almost all of Mariners' games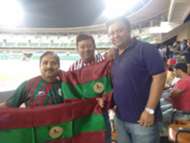 Hardcore fans of any club are a commodity hard to come by in the present day. Loyalties have diluted, more constraints have been developed, and sometimes the sheer will itself is missing.
Amidst all that, here is Surajit Nandi, a die-hard Mariner, who has made it a point to travel for just about all Mohun Bagan games! Not only that, but he turned up to a Copa America Centenario tie between Argentina and Chile donning a Bagan full-kit, with a flag in hand! Here we let the man, also an export businessman, tell Goal  his story.
"I first started supporting Mohun Bagan when I was in my fourth grade in school. My father, my uncle, just about everyone in my family is a Bagan fan. That pulled me into the tradition as well, soon Bagan became an integral part of my life. Now it has been over three decades of supporting the Mariners for me!
"When I was in Kolkata earlier, I used to go and watch all home games and some away games, but then I had to relocate to Chennai for work, and then started getting to go to fewer games. But regardless of how everything was, I would make it a point to go watch the derby and other important games at least.
FIFA U-17 World Cup 2017: India's ties to be played in Delhi, not Navi Mumbai
"But now I travel to almost all Mohun Bagan games. Even right now, I'm in Shillong where I came for the previous game. It's my first time here, but I usually go to all matches in Goa and down south. I have also travelled to Male and Colombo this season to support the Mariners away," revealed Nandi.
He mentions how the current crop of supporters are different from his time, but also highlights the fans from some rival clubs and points out the good work they have been doing.
"When we were kids, there was no alternative to Indian football. European league matches were not telecast at that time, so we had no exposure to those, making it a no-brainer to latch on to an Indian club. But as times have changed now, we see a lot of youngsters growing up watching European football but not knowing anything about football in their own country.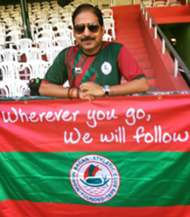 Overmars is wrong man for Arsenal in director of football hunt
"However, the current scenario of supporters is amazing. Not just for Mohun Bagan, but for East Bengal, Bengaluru FC, and the other clubs as well. A young set of supporters are coming up and taking charge more and more. We will obviously support them, but it is very good to see their initiative.
"East Bengal fans have been terrific in recent years. Especially, the Ultras have been loud and supportive over the last few years. Bengaluru FC fans, the West Block Blues, are also bringing in a lot of change in how fans support football in India. The European influence of the tifo culture and flares in the stands is good to see as well," he felt.
He added on about how the advent of fan clubs in the past decade or so have united the fans, but also how they have unwittingly caused a slight divide. But all things said, he is very proud to see hundreds of maroon and green shirts in the stands!
"Earlier, about two decades back, the system of fan clubs didn't exist. Oftentimes I would be the only away fan in the stands. But now these fan clubs plan things out, and people travel to away games, which is very heartening to see. For any Mohun Bagan game this season, we can see hundreds of away fans coming in.
"There's just one gripe that I have, and it is that when the agenda should have been uniting fans, the fan clubs have unknowingly caused boundaries between fans. There are now hundreds of fan clubs, and they occupy different sections of the gallery during the game, when it should just be in support of one club, Mohun Bagan, together. That (unification) is definitely something everyone would love to see happen," remarked Surajit.
Koeman admits Chelsea target Lukaku won't sign new Everton contract
As a Mohun Bagan fan, he is bound to be please and thrilled with the way the I-League season has gone for his club so far, and he says nothing different.
"I am very happy with the way we have performed this season. We are on top and we should be clinching the title unless something dramatic happens. Aizawl and East Bengal have given a good fight, but I expect us to regain the title we lost in 2015," said a confident Nandi.
The hot topic in Indian football over the past few seasons has been the impending merger between the I-League and the Indian Super League to create one top division for Indian football. Nandi explains how the profile of players targeted by franchises would need a change then.
"A merger will certainly be good for Indian football as you cannot really have two leagues running concurrently. A unified seven-month league will be the best for the development of players as well. There are some concerns as well whether the merged league would have the pull to attract players like Helder Postiga and Roberto Carlos for seven months, and whether the retired players who are brought in can last seven months in Indian conditions.
Mourinho: United defence can be upset with attackers
"We saw how well Bernard Mendy played for Chennaiyin FC in the second season of the ISL, but then he struggled to keep up with the demands of the I-League. Likewise with Eduardo Ferreira this season. Therefore, the profile of players coming in might drop a bit," he expressed.
Finally, he spoke his mind out about how a top division cannot exist without the three big guns from the I-League, Mohun Bagan, East Bengal and Bengaluru FC.
"You cannot have a top division without Mohun Bagan, East Bengal and Bengaluru FC now in India. Bengaluru have said that they will play, but there needs to be a way to incorporate the two Kolkata clubs in the revised top division, and also there should be a relegation system introduced in a few years so that clubs like Churchill Brothers and Shillong Lajong can also vie for a place in the top division," he concluded.