MLS
Media Microscope: Facebook Live offers American fans new access to MLS and Liga MX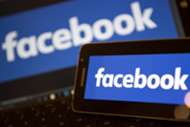 The next wave of soccer television has already arrived. And it's not really even television.
As cord cutting becomes more and more prevalent, North America's two major soccer leagues removed a television as a barrier to entry through two Facebook Live deals announced over the past two months.
First it was a three-way deal between Univision, Facebook, Inc. and Liga MX in February. Just weeks later, Univision, Facebook and MLS announced a similar agreement.
Now, fans in the United States need only an internet connection and any device – cell phone, laptop, tablet, etc. – to have access to 46 Liga MX games and at least 22 MLS games in 2017.
"We've been experimenting with digital platforms for a while and I really see this as the next wave of television," Eric Ratchman, executive vice president of content distribution at Univision told Goal.
CONCACAF aiming for joint 2026 World Cup bid
"Facebook is making a push into live TV now with sports. They started experimenting last year and they did a few things but now they are really making a push into live events."
Facebook's nascent push into live sports has already produced big results: 3.7 million people tuned into Facebook Live in August for a Wayne Rooney testimonial match between Everton and Manchester United. According to Facebook, 71 percent of those viewers were 35 years old or younger.
The charity match offered just a glimpse of the platform's potential, but Facebook faces a major hurdle when it comes to securing live sports rights: Every major U.S. sports league's rights are tied up in long-term television deals.
With Univision, Facebook found a solution to that particular issue.
The Spanish-language network allowed Facebook to acquire just the English rights for Liga MX and MLS, allowing Univision's television properties to continue being the Spanish home for the two leagues in the United States.
For Liga MX, the deal was especially noteworthy. The Mexican top flight is the most watched soccer league in the United States but aside from a few sporadic ESPN games in recent years, Liga MX did not offer consistent English-language matches in the United States. That has now changed.
The interest is certainly there. According to Neilsen, 18.3 million English-speaking viewers watched soccer in Spanish on Univision networks between July and December 2016.
As time goes by, more and more Mexican-American soccer fans are born and raised in the United States who are just as, if not more comfortable, following their Liga MX teams of choice in English.
Univision is now well positioned to capitalize on this group – as well as any other English-speaking fans who want to more closely follow Liga MX.
"Liga MX is the No. 1 soccer league in this country and the focus has been on Spanish up to this point," Ratchman said. "I just don't think that anybody has really looked to explore building the audience around English up to this point and I think that we are the first to do that."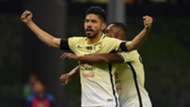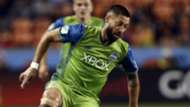 Watching a game on Facebook Live offers viewers a different experience than they'd get on television.
For one, just like any other Facebook Live event, there is a steady stream of small icons floating across the screen, which pick up during noteworthy moments of the game. Did the referee miss a call? There might be dozens of little thumbs-down icons popping up across the screen. Somebody scored a fantastic goal? Watch a myriad of hearts and thumbs-ups flying around like little insects drawn to the light.
Additionally, the announcers – Mark Rogondino and Heath Pearce for MLS, and Nico Cantor and Ramses Sandoval for Liga MX – actively participate in a dialogue with Facebook commenters during the match, answering questions, offering predictions and giving shout-outs.
A television broadcast, this is not. Ratchman won't reveal the actual numbers from Facebook Live matches so far, but says the feedback has been mostly positive.
"A fun part about this platform is that our users get to engage directly with the content, with fellow fans and with us," Ratchman
DeLaGarza delivering​ after Houston move
For the time being, another key difference between Facebook Live and television broadcasts is that you won't see any advertisements during a Facebook Live stream.
While Facebook Live continues to experiment with ways to generate ad revenue, for now, it appears that, much like during the early days of Facebook itself, the tech giant is willing to see what it has first before immediately trying to monetize the platform.
"There will be the opportunity to generate advertising revenue down the road," Ratchman said. "Facebook is still building out their capabilities in the advertising space."
Facebook will continue to expand its live sports properties, while Twitter and Amazon have also gotten in on the action with deals to stream MLB, NHL, NBA and NFL games. Watch this space: The next phase of sports television has arrived.