Kylian Mbappé
'Mbappe is the after-Ronaldo and after-Messi' - Trezeguet backs teen as the future of football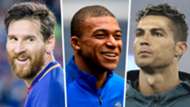 French forward Kylian Mbappe is the future of global football, according to his fellow countryman David Trezeguet.
Mbappe was named in the FIFPro World XI on Monday following his exploits in France's World Cup triumph, while the Paris Saint-Germain star was also named Ligue 1 player of the month.
Luka Modric scooped the FIFA Best Men's Player award , ending Lionel Messi and Cristiano Ronaldo's decade-long stranglehold over the top individual prize handed out by world football's governing body.
But Trezeguet, who famously scored France's golden goal winner in the final of Euro 2000 against Italy, believes the future belongs to Mbappe.
"Mbappe is a player who showed his qualities with his club and with the national team," he told reporters at the ceremony in London.
"I think he is the present but above all, he is the future. He is the future of football.
"He is the after-Cristiano Ronaldo, the after-[Lionel] Messi. He is an exceptional player."
New PSG coach Thomas Tuchel is a big fan of the young forward, but believes that Mbappe must be treated carefully in order to reach the top.
"I heard someone speak about Andres Iniesta in Barcelona. It was the director of the academy who was speaking about him and he said: 'Pay attention to how he develops'," Tuchel told  RMC .
"It's a little bit the same with Mbappe. You have to be gentle with him, you have to be careful that he doesn't get a big head, that he develops his tactical consciousness and becomes aware of the importance of daily work in training, but also in his day-to-day professionalism in order to achieve the massive goals he's set himself. That will be decisive, I believe. It's a question of details."
Mbappe has four goals and one assist so far in Ligue 1, despite just playing three games this season. A red card against Nimes saw him pick up a suspension, which meant he missed PSG's comfortable wins over Saint-Etienne and Rennes.