South Africa
Mark Fish: Bafana Bafana have been a disappointment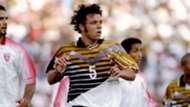 With the 2018 Fifa World Cup only days away, once again the South Africa national team are readying themselves to watch the global showcase on television.
For the second consecutive World Cup, the national team has failed to qualify for the elite competition, leading to much criticism and immense negativity.
But despite Bafana Bafana's struggles the disappointment continued this past week as Bafana suffered what can only be described as a rather embarrassing defeat to Madagascar in the 2018 Cosafa Cup on home soil.
Although, Bafana managed to shrug off the defeat and soldier on as they claimed the Cosafa Cup Plate, it wasn't much consolation for a national football side that has been in decline for some time.
The latest misfortunes of the national team is certainly not going down well with some of Bafana's legends questioning the desire of Stuart Baxter's men to done the famous Bafana jersey.
"I think to say that the national team has been a disappointment would be an understatement," former Bafana Bafana defender Mark Fish told SowetanLive.
"You just don't see that passion and hunger from our boys at the moment. It's like the significance of what they are doing and who they represent is lost upon them," he added.
"We really need to take a hard look at ourselves and decide how we are going to turn this situation around," he expressed.
Meanwhile, another former star who enjoyed much success with the national team is Phil Masinga and he too has questioned the way football is run in the country.
"The blame cannot fall squarely at the feet of the players. We need to question what caused our World Cup chances to crumble," Masinga said.
"That is why some of us felt that there needed to be changes at Safa. Just look at the qualifiers: there was a point we were leading the group but in the end it amounted to nothing," he concluded.