World Cup
Mark Cavendish shows off his R9 boots as World Cup fever hits the Tour de France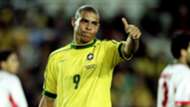 World Cup fever has reached the Tour de France, with British cyclist Mark Cavendish about to take to the saddle with some Ronaldo-inspired footwear.
The Grand Depart of the world's most famous bike race is due to be staged on Saturday, with the best riders on the planet chasing down the yellow jersey and a place in the history books.
Sprint king Cavendish will be among the favourites for stage one, and he will be pursuing victory in style.
With the action at Russia 2018 gripping a global audience, the Olympic medallist has given a nod to the football world with his choice of boots.
Clearly a fan of a legendary Brazilian who enjoyed an iconic playing career, Cavendish has decided to go R9 in his shoe design.
Ronaldo formed part of Selecao squads at four World Cups, claiming two winners' medals, and is the second highest scorer in the competition's history – with 15 efforts to his name.
The first of those arrived at the 1998 event which saw him wearing the Nike Mercurial range.
Cavendish admits he always wanted a pair as a youngster and has now got his wish with his own 'M 1998' boots.
Union Cycliste Internationale (UCI) regulations stipulate that no part of a cycling boot should extend above the ankle, so Cavendish may be in breach of those rules.
He will, however, be hoping to be given the green light when he takes to the streets and roads of France in pursuit of the honours which eluded Ronaldo 20 years ago.