Manchester City
Former England defender Joleon Lescott reveals he came close to joining ISL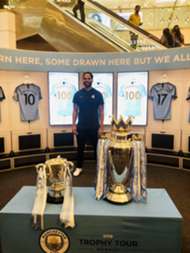 It was a record-breaking 2017-18 season in the Premier League for Manchester City in more ways than one. Pep Guardiola's entertainers smashed the record for most points, wins and goals in a single season as they emerged runaway winners in the league.
A Carabao Cup title was attained too in a season which will be fondly remembered by the Manchester City faithful. Both the glistening trophies were on show in New Delhi over the course of the weekend as the Manchester City Centurion's Trophy Tour continued its journey around the world.
Accompanying the trophies was a certain Joleon Lescott. The former defender is no stranger to winning trophies with the blue half of Manchester having won two Premier League titles and a FA Cup during the five seasons he spent with the club.
"This is my first visit to India and I've been overwhelmed by the warm welcome we've received. People are so passionate and knowledgeable about football and it's been fantastic to bring our trophies to help celebrate a great season with the City fans in India," the 36-year-old told Goal in an exclusive chat.
While many former players have veered towards the coaching arena post their retirement, Lescott has taken on a unique role with City. The former Wolverhampton and Everton defender has been appointed as a loanee player liaison agent with the club.
When asked what the role entails, Lescott replied, "I was asked to help, when I was watching one of the games last year by a friend that works at the club and the role was offered to me. It was basically a scouting role, and when I agreed to it they had bigger plans for me and the role itself."
"It was kind of a pleasure to be a part of Manchester City and seek out future players."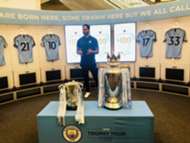 As Manchester City's star continues to rise around the globe, so has the young talent brimming through their state-of-the-art academy. With many gifted youngsters on their books, managing their progress and development to carve out a path to the first-team is a crucial aspect. Sending such players on loan to other clubs in order to secure playing time at a crucial juncture of their development at City has become a common theme.
"The fact we do send them on loan shows it is not as easy as they assumed when it comes to playing first-team football. The players in Manchester City's books understand that you might play for a team in a different league in a difficult journey.  You realize that the intensity is high and it is not easy training with players every day. There is another level when it comes to the game and atmosphere, so we are just trying the players get used to that when they come to Manchester City's stadium and ensure they are prepared," Lescott explained.
While City continues to earn plaudits for their style of play and the entertaining football on offer, it is not all so rosy in the red half of the city with Manchester United's struggles this season becoming all too evident. Long have City lived in the shadow of their famous neighbours but the tide seems to slowly be turning in recent times.
"It is hard to say at the moment, definitely the fact is that we are dominating the Premier League. We don't wish bad for the (Manchester United) team and wish success to them," Lescott replied when asked if there had been a definite shift in the power balance between the two rivals.
This season, the Premier League title race promises to be an intriguing affair with little to separate City, Liverpool and Chelsea.  Lescott believes it is a title race which will go right down to the wire.
"I think there will be a close throughout this season. I think Liverpool has a squad to really challenge for the title.
"The fact that Chelsea will change their team for the UEFA (Europa) League so players like (Eden) Hazard will only be playing one game a week for the majority of the season makes them strong contenders as well, especially on the back of a season with a World Cup. "
Modern-day football has seen the role of central defenders been redefined drastically, especially in an attack-oriented system as Pep Guardiola's. Defenders who can bring the ball out of defence have been in increasing demand of late. Meanwhile, old school no-nonsense defenders are slowly becoming a dying breed. For Lescott, it is all about attaining a fine balance between the two when it comes to defining the complete defender.
"I think the best defenders will have a fine balance of both because the further you get in regards to a competition, the level of attacking play and strikers forward gets better. So, you will need to be able to adapt and equip yourself defensively. It just not going to be about playing with the ball but how good you are in the last stages of a competition," he stated.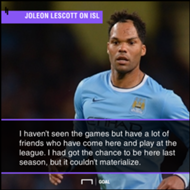 With the huge influx of English players and coaches in the Indian Super League (ISL) in recent times, the league is starting to get generate attention back in England. The likes of Steve Coppell, David James and John Gregory are just some of the coaches from England plying their trades in India currently.
Lescott revealed that he came close to signing up for a stint in the ISL last season.
"I haven't seen the games but have a lot of friends who have come here and play at the league. I had got the chance to be here last season, but it couldn't materialize. We have rare coaching talent in England, I am sure the more experience they can pass on to Indian football, the better equipped they will be in future," he said.
With many former players turning towards coaching, the temptation for someone with the experience of Lescott could be strong. However, the former England international is keeping his focus on his current role with City for now.
"I enjoy the role that I am doing now and the aspect of doing many different things.  But, you never say never."