Transfers
Man Utd formulate £14m De Gea salary offer to deny Real Madrid star goalkeeper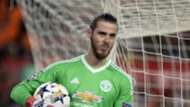 When David de Gea somehow kept out Luis Muriel's header shortly before half-time in Manchester United's Champions League visit to Sevilla last week, it was a familiar collective sigh of relief which was heard on the away terraces.
Not only had he done similar moments earlier to deny Steven N'Zonzi, but the Spaniard has become recognised as the world's best goalkeeper on the back of countless such interventions over the past five years.
Having struggled during his early months at Old Trafford, De Gea has been United's most consistent player since the retirement of Sir Alex Ferguson brought about greater pressure on the Red Devils' goalmouth on a weekly basis. The 27-year-old won the club's Player of the Year award in 2013-14, 2014-15 and 2015-16, prompting Jose Mourinho to announce shortly after his arrival at the club in 2016: "If season after season the goalkeeper is Player of the Season, it means that something is wrong. Hopefully he's not player of the season this season but hopefully he keeps making important saves for us."
But De Gea continues to stand out, and his form has continued to catch the eye of Real Madrid. The European champions attempted to sign the ex-Atletico Madrid star from United in 2015, only to be foiled by a matter of minutes, and there is a real belief that they could launch another bid for him this summer.
And, with former United star Paul Scholes admitting to Goal  that he can understand if De Gea wants to leave for the Spanish capital , many of the club's fans are bracing themselves for a nerve-shredding summer as they look to hold on to the man Gary Neville claims is "United's only world-class player" .
Below, Goal looks at the situation and how it could play out...
---
De Gea's deadline day fax machine farce
---
It was a bizarre twist of fate that United fans still celebrate to this day. On August 31, 2015, United agreed to sell De Gea to Real Madrid for around £30 million and began the formal process of arranging a transfer which would see Keylor Navas arrive at Old Trafford in return.
De Gea had been left out of the first six games of the 2015-16 season by Louis van Gaal, who was worried about his keeper's frame of mind against the backdrop of the continuing transfer talk linking him to Madrid. However, it took the Blancos until the final day of the transfer window to make their first official approach, offering Navas in part-exhange in order to help fill the gap left behind by De Gea in United's squad.
But Madrid missed the deadline by 28 minutes after a faulty fax machine delayed the processing of the transfer documents, leaving both players in limbo and the two clubs pointing accusatory fingers back and forth. Within days, United had tied De Gea down to a new four-year deal with a club option for 2019-20 and they will be hoping against hope that they are not dragged into another ridiculous saga this summer as they attempt to lock in the goalkeeper with another long-term contract.
---
What are Real Madrid's goalkeeping plans?
---
Since their near-miss with De Gea, Madrid have won two Champions League titles with Navas keeping goal. The Costa Rican has become a huge favourite of coach Zinedine Zidane, and there is a general belief in the Spanish capital that Los Blancos would be more than happy to retain the 31-year-old as their first choice into at least the 2018-19 season, if not beyond.
Madrid goalkeeping coach Luis Llopis has a great relationship with Navas, having also worked with him at Levante before the keeper made headlines with his national team and the 2014 World Cup and won a €10m move to Real Madrid as a result.
Navas himself has made it clear that he has no desire to leave the club this summer, regardless of what Madrid do in terms of bolstering their goalkeeping stocks. While there had been speculation over his future when Madrid made a move for Kepa in January, Zidane made it clear that the approach for the Athletic shot-stopper was likely to come at the expense of second-choice keeper Kiko Casilla rather than Navas.
The Blancos will again consider a goalkeeping target this summer and, with Kepa having recently signed a new seven-year deal at Athletic, De Gea is likely to be considered once more since Madrid have concluded that their next purchase between the nets should either be a young player with great talent or one of the very best in the business if the opportunity arises.
Any long-term plan could be thrown into jeopardy if a poor finish to the season persuades the powers-that-be at the Santiago Bernabeu to part with two-time Champions League-winning coach Zidane, but it is also felt that the emergence on the market of a goalkeeper of the calibre of De Gea or Chelsea's Thibaut Courtois will attract Madrid's attention regardless of who is leading them from the bench.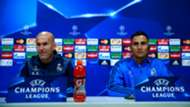 ---
What do Man Utd & De Gea want?
---
Simply put, United do not want to lose De Gea and there is talk that they have prepared a deal worth around £275,000-a-week (£14.3m salary) to keep the goalkeeper in Manchester for the forseeable future.
Mourinho has already made it clear that the club will pick up their option to retain the No.1 for the 2019-20 season, but they see it as being in everyone's best interests to ensure that De Gea is presented with a firm offer for a new deal well in advance of that time.
De Gea, meanwhile, is thought to be keen to stay on at United so long as he can see a turning point in the club's fortunes in the months ahead. With the 20-time English champions destined for a fifth straight year without a serious title challenge, De Gea is hopeful of a decent Champions League run this season to help United's case as a force to be reckoned with once more.
Having told his agent, Jorge Mendes, last year that he is more than happy at Manchester United and saw no need to look elsewhere, that viewpoint would appear unlikely to change this summer unless the club are dumped out of the Champions League by Sevilla and suffer a poor end to the campaign.
On a personal note he is more than happy with life in Manchester, despite his girlfriend Edurne Garcia having famously conceded the city was "uglier than the back of a fridge" on a light entertainment show in 2015. De Gea even admitted to the Star on Sunday recently that he is enjoying veteran status among the current United squad.
"To be honest I am just really happy," he said. "I feel like an important player in the dressing room. I am one of the oldest in the team. It makes me happy to see the younger players coming through - and trying to make United big."
As long as United can convince De Gea that they are continuing to strive for the kind of success he craves, it would appear that there is little chance of him leaving Old Trafford this summer. Now it is just a case of delivering the kind of results that can persuade both their star goalkeeper and the outside world that they are ready to become a giant once more.