Xavi
Man City & Real Madrid among Xavi's favourites for Champions League glory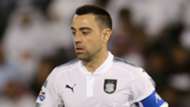 Barcelona legend Xavi Hernandez has picked his favourites to win the Champions League this year, including Manchester City and Real Madrid.
The 38-year-old also thinks his former club Barca are capable of going all the way in the competition, along with Bundesliga giants Bayern Munich.
Madrid take on Juventus, who knocked Tottenham out at the last-16 stage, in the quarter-finals, while an all-English affair sees Manchester City go head-to-head with Liverpool.
Elsewhere Barcelona face Roma and Bayern meet Manchester United's conquerors Sevilla, with Xavi suggesting he expects one of four sides to lift the trophy.
He told Goal at a ceremony where he was re-signing as an Ambassador for Generation Amazing, 2022 FIFA World Cup's social responsibility programme: "I think we have four favourites. Real Madrid, Barcelona, Manchester City and Bayern Munich.
"The rest of the teams are a step down. But we will see. With the Champions League we never know what will happen."
The former Spain international also discussed his country's World Cup chances, with Xavi believing Argentina, Brazil and Germany are all capable of going all the way.
He said: "Argentina, with Messi, are one of the favourites to win the World Cup. Germany, Brazil with Neymar, Spain - I hope that they can win it. But there are many, many favourites to win this competition."
Xavi went on to talk about Andres Iniesta and stated that he would be happy whatever his former team-mate decided to do regarding his future at Barca, while he thinks Arda Turan probably needed more time to succeed at the club.
The Al Sadd midfielder added: "Whatever he [Iniesta] decides I will be happy for him, he deserves the best. He's one of my best friends in world football and he deserves the best. Whatever he decides will be good.
"It [why Arda didn't make the grade at Barca] depends on his confidence. Sometimes Arda needed time to do well at Barcelona. But in Barcelona sometimes you don't have time.
"You have to compete well from the first moment that you play. So it's not easy at Barcelona."