AFF Championship
Azhan ready to step into Syahmi's big boots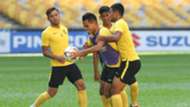 Football can be a funny old game sometimes. One minute you're sitting at the bench watching, supporting your colleagues as they negotiate game after game through a tough competition to reach the final; and the next minute you're being asked to play in the final.
That is the prospect that awaits Amirul Azhan after the incumbent right back Syahmi Safari was shown two yellow cards which amounted to a red card and will now miss the first leg of the two-legged final against Vietnam.
The 25-year-old Azhan has been patiently bidding his time and played his part as a squad member even though he is a right back while Syahmi normally plays further forward for his club. It's a big stage for Azhan to come into in Tuesday's first leg at Bukit Jalil National Stadium but the 2018 Malaysia Cup winner is raring to go.
"Physically and mentally, I think I'm ready. Because as soon as I saw that Syahmi got his red card, I knew that I stand a good chance of playing in the next game. It is a very big stage for me to come into but if I'm selected, I hope to get good support from my team mates on the pitch."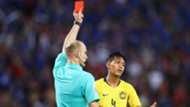 "Of course it comes as a bit of shock (to play his first match in the final) and the pressure is also really high because of what's at stake. But I'll do what I can to absorb the pressure and play as best I can.
"Game by game you can see that we have increased our understanding. For sure we will be doing all we can to avenge the defeat to Vietnam in the group stage and I'm confident that the entire team will be up for it," Azhan told Goal.
Together with Hafizul Hakim and Adam Nor Azlin, Azhan are the only three players yet to taste a single minute of football in the competition this year. To make the task even harder for Azhan, he is likely to come up against the effervescent Vietnam 'Messi' in Nguyen Cong Phuong.
Vietnam targeted the area between Malaysia's right back and centre back as the area of weakness when the two teams met in the Group A encounter almost a month ago. Tan Cheng Hoe will have to ensure that if he selects Azhan in the forthcoming match, that area will no longer be able to exploited by Vietnam or risk facing an uphill task in the return fixture on December 15.
Follow Goal Malaysia on Instagram