Selangor v Pahang
League title chase more open this season, says Maniam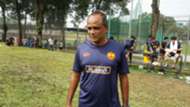 ---
BY        ZULHILMI ZAINAL       Follow on Twitter
---
Selangor head coach Maniam Pachaiappan only wants to look ahead, following his team's 4-1 trouncing by Terengganu FC in the previous Malaysia Super League (MSL) round.
After a convincing start to the season with back-to-back wins over Kuala Lumpur and Melaka United, the Red Giants were brought back down to earth in round three, when they fell to a 4-1 away defeat to the Turtles on February 10.
When asked by Goal about what went wrong with his men in the defeat, Maniam seemed reluctant to explain extensively about the match, preferring instead to talk about their next league match; against Pahang this Saturday.
"That match is over already, let's not talk about it. We have to focus on the game against Pahang. We were off-form in that match, six or seven of my players were off that night.
"It's better if we look positively towards the future. The players worked very hard last week and yesterday I can see them motivating themselves.
"They showed good possession in training yesterday as well as a high confidence level. This, coupled with the 2-0 win over Kuantan FA last week show that the players are confident of bouncing back," said the coach when met before conducting training on Tuesday.
Luckily for him, his desire to only look forward has been bolstered by his men's full fitness, save for one.
"Alex (Azamuddin Akil) needs two more weeks to recover. Ilham [Udin Armaiyn] has an ankle injury, but he will undergo an injection today and should be able to start training at 100 per cent tomorrow.
"But we have options. Amri [Yahyah] is there, Joseph [Kalang Tie] has fully recovered and ready to play. And our young players such as Sean [Selvaraj] and Faizuddin Abidin are ready to perform anytime they are needed," explained Maniam.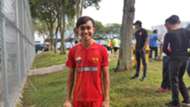 Faizuddin Abidin
He is also glad that despite the defeat, other teams in the league have also slipped up in the league's opening stages, which to him indicates that the contest for the Malaysian top tier title will be more open this year.
"If you look at JDT (Johor Darul Ta'zim), last season it took them quite a while to be beaten," remarked the former Malaysia international. "But this year they lost in the third round. I think it will be more difficult for them to win the title this season.
"At the same time, other teams have shown good progress with five foreign players. We can see PKNS have good players and a good team. Kedah too, although they haven't been performing well, they have good players. And so do Pahang and Perak."
Selangor are currently third in the standings on six points, one point behind surprise leaders PKNS, and tied on points with second-placed JDT and fourth Melaka United.