Hellas Verona
Luca Toni's car in alleged attack by violent Italian ultras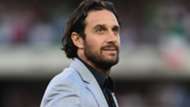 A car carrying the former Italian international striker Luca Toni was attacked by a violent mob prior to the Serie B fixture between Avellino and Hellas Verona.
'We deserved to lose' - Tuchel slams Dortmund display
Toni, who finished his playing career at Verona last year, was travelling to the match with Maurizio Setti, the club's president, when the car they were in was ambushed by a 15-strong violent mob.
The incident took place close to Avellino's Stadio Partenio and the mob kicked and punched the car. A window was smashed but thankfully nobody was hurt.
"It was truly horrible," Toni told Sky Italia. "The President had a blue scarf on, so perhaps they mistook us for regular Verona fans and didn't recognise us.
"We were surrounded by 15 people, not fans and nothing to do with the good people of Avellino. What's really disappointing is that 20 metres away were some police officers and they did nothing. I had thought with them around I'd feel protected, but they just stood there.
"Thanks to the driver, a friend of mine, we could run away. Football should be a celebration. This is shameful."
Ancelotti sings Bayern's praises after late, late show
Hellas Verona were beaten 2-0 in the match, leaving them two points behind league leaders Frosinone in the Serie B table, and afterwards they released a statement condemning the behaviour of the perpetrators of the attack. 
Hellas Verona FC - Comunicato ufficiale
Leggi qui ➡ https://t.co/4o8pM8krGu pic.twitter.com/1GSJD6l4TA

— Hellas Verona FC (@HellasVeronaFC) February 11, 2017
"This is a regrettable episode in what should be a day of sport but that threatened to turn into a tragedy," the statement said.