Euro 2016
Hodgson proud of England's perfect Euro 2016 qualifying record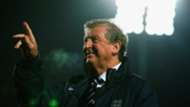 Roy Hodgson insists England should be proud after beating Lithuania 3-0 on Monday to seal a perfect record in Group E of Euro 2016 qualification.

The victory in Vilnius came through strikes from Ross Barkley and Alex Oxlade-Chamberlain, either side of a Giedrius Arlauskis own goal.

England were the only team across all groups to achieve a 100 per cent record and it is only the sixth time the accomplishment has been achieved in European Championship qualifying history.

Hodgson insists such a record is no mean feat and urged his players to be proud of what they have done since the disappointment at the World cup last year.

"It is an achievement. We are very proud of the players' performance," Hodgson told ITV.

"To get 10 wins out of 10 it is never easy in these qualifying groups, so we have got to be satisfied with it and take a bit of pride in it.

"I thought it was excellent the way they went about their business here, especially in the first half where I thought we were so dominant.

"In the second half of course the game, if anything, got a little bit too easy for us but there was still a lot of hard work being put in and I thought the quality of our play was good."

The former Liverpool boss was impressed with the way a number of his fringe players performed and admitted they had boosted their chances of making the final squad for next year's tournament.

"A lot of the players we have used [in the campaign] has been due of injuries but here we had the luxury of using all the players," he added.

"We put our subs on as well, so everyone who has been part of this trip for these two matches has been able to play some football for England. That may not always happen but it is good and I am pleased about that.

"The players who represented us did a terrific job and they have got to feel they have strengthened their chances of being considered when it comes to France.

"I know there is a lot of water to pass under the bridge before then but I really couldn't fault anybody - I thought it was an excellent performance, a totally dominant one.

"It was a nice way to end what has been an excellent qualifying campaign for us."