African All Stars
Leicester City midfielder Wilfred Ndidi eyes Tottenham's fall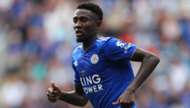 Leicester City midfielder Wilfred Ndidi is confident of his side claiming victory over Tottenham Hotspur when they meet in Saturday's Premier League game.
Mauricio Pochettino's men have only lost once [vs. Arsenal] in their last eight games and have the best away record in the English top-flight with seven wins in nine games.
And although the midfielder acknowledged the quality of Spurs, he has no fear that his side can clinch a positive result at the King Power Stadium.
"They are really good. They are in form this season and at the moment they are really in form too. They've got qualities," Ndidi told club website.
"I have no fear because I know we will do well. There is just something about this game where I know we are going to do well.
"We are at home and everyone is ready. I think it's going to be a tough one, it's never going to be easy, but I think we are going to come out well."
Ndidi also stated that they have improved on the way they start games with the help of their manager Claude Puel.
"If you remember at the beginning of the season, we conceded goals in less than five minutes into the game but now it's getting better. I think we are improving," he continued.
"As well, what the manager said is right because we need to actually start the game quickly and put pressure on the opponents, but I think everything will go well."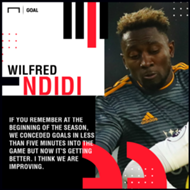 The Foxes are on a seven-game unbeaten run in all competitions, with their last defeat in October.
They are ninth in the league log with 22 points from 15 games and the 21-year-old believes they deserve more.
"Honestly, we deserve more. We should have done more because you know the games we drew and the games we lost so I think we should have done more," he added.
"We should have climbed more than ninth now. It's something we should learn from and something we have to move on and learn from, these mistakes."