Championship
Leeds striker Ekuban 'hoping' to follow in Chris Wood's footsteps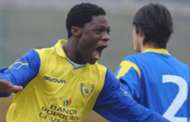 Italian-born striker of Ghanaian descent Caleb Ekuban says he's learning from his Leeds United teammate Chris Wood after the English Championship kick off last weekend.
The 23-year-old signed a four-year deal with the Elland Road outfit last month from Serie A side Chievo Verona and hopes to hit the ground running after scoring on his debut in the League Cup against Port Vale.
"When I signed here, the first thing they told me was that last year Chris Wood scored 30 goals. I said wow!" Ekuban told The Yorkshire Evening Post.
"I'm trying to learn as much as possible, training with him because he knows how to play, he knows how to move.
"From him I can achieve more and become a better player. He's a smart striker who can hide from a defence but then, in a second, get out," he added.
Ekuban spent last season on loan with Albanian side FK Partizani and played in the Champions League qualifiers.
"Last year, we played against top teams in the Champions League. We competed well but they were too good.
"I learned something from those games. When you have the ball, you have to secure it in every way and do the same in every position on the pitch. A lost ball can become a goal very quickly.
"That's what I learned. I need to do the same here because the defenders in the Championship are top defenders. They don't give you opportunities. I'm trying to learn."
Ekuban netted 17 goals in all competitions last season.