Simba
Lechantre names Yondani as Yanga's key man ahead of the derby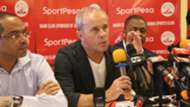 Pierre Lechantre has mentioned Yanga's captain Kelvin Yondan as key to their stable defence and will devise a formula to break their rivals' backline.
He also singled out Zambia-born forward Obrey Chirwa, who has 12 goals to his name this season as a threat in attack.
Speaking in Dar es Salaam ahead of the match, Lechantre said that Yanga defend well and their key man is Yondani who is a much experienced defender in the team.
"Yanga defend well, their key man Kelvin Yondani has been outstanding in all games. I have watched their games several times and we need to take them seriously. Obrey Chirwa is deadliest at striking and we have to watch him carefully," said Lechantre.
He added that, if they want to win they have to work through the strengths and weaknesses of their opponents.