MLS
LAFC demolishes Sounders to reassert status as best team in MLS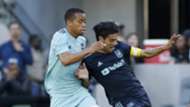 If you thought for a second that Wednesday's surprising loss to the Vancouver Whitecaps was a sign Los Angeles FC might not be as good as we thought, Bob Bradley's squad delivered an emphatic message on Sunday night making it clear they are still very much the class of Major League Soccer..
The Western Conference leaders handed the Seattle Sounders a 4-1 thrashing that played out more like a mismatch than a battle of the league's two best teams. The Sounders were missing some key starters, but the absences of Raul Ruidiaz and Chad Marshall weren't enough to explain away just how easily LAFC dominated the last remaining undefeated team in MLS.
Carlos Vela opened the scoring with a beautiful goal, but Sunday wasn't just the Carlos Vela show. No, LAFC flexed its collective muscle, dominating the Sounders in midfield and setting up chance after chance against a Sounders defense plagued by a glaring weakness in Roman Torres. The Panamanian started in place of injured Marshall and looked nothing like the player who helped the Sounders win an MLS Cup in 2017, and helped Panama reach its first World Cup. On Sunday, Torres looked slow and overmatched and looked lost on muiltiple occasions.
On a day when none of Seattle's role players stepped up, it was LAFC midfielder Mark Anthony Kaye who was arguably the best player on the day. The Canadian recorded three assists and flashed the type of impressive two-way work that has made him such a lynchpin in LAFC's midfield. Kaye and Eduiard Atuesta effectively neutralized Nicolas Lodeiro, while splitting Seattle's defense with sharp passes with surprising ease.
LAFC looked much more like its usual self and nothing like the lackluster bunch that stumbled against the Whitecaps on Wednesday. Bob Bradley sat three-fourths of his starting defense, as well as Kaye, and the squad rotation left LAFC vulnerable on the road against a desperate Whitecaps side that had played better than their previously-winless record suggested. The result was an uncharacteristically lackadaisacle performance by LAFC, but the kind of effort you would rather see on the road while resting starters than at home against a top opponent.
Bradley still couldn't have been happy with that loss, but his lineup decisions certainly looked to pay off on Sunday, with a rested Kaye dominating in midfield and the LAFC defense limiting Seattle to just two shots on goal. Skeptics might point to the Vancouver loss as a sign LAFC lacks depth, but the reality is Wednesday's loss felt more like the type of trap-game performance a team can have when facing an underdog ahead of a showdown against a top-level opponent. Rest assured, LAFC has depth, both in attack and defense, at least by MLS standards in a league where the salary cap makes having top-to-bottom depth near impossible.
Sunday's victory moved LAFC four points clear of the rest of MLS atop the Supporters' Shield standings, but at least one team can lay claim to the idea LAFC isn't even the best team in its city, let alone MLS. The LA Galaxy have won five straight matches, and are undefeated with Zlatan Ibrahimovic in the lineup. They sit four points back of LAFC, but hold two matches in hand. Sadly, the two rivals won't face each other until July, leaving us to wait three months before we truly know which team is the best in MLS, though the way LAFC is demolishing opponents it's easy to see why the consensus belief is that LAFC is the top dog at the moment.
Seattle won't have to wait nearly as long for another shot at the league leaders, with LAFC set to visit CenturyLink Field on April 28. Ruidiaz, Marshall and Will Bruin could be back for that match, giving the Sounders a full-strength squad and a better chance to show they truly are in the same class as the team that just finished outlcassing them.
The Sounders aren't the first team to be run off the field by LAFC, and won't be the last. With Vela looking every bit like an MLS MVP, and a central midfield playing like the best unit in the league, LAFC look to be a notch above the rest of MLS, and it could be a while before we see anyone step up to dispute that position.