NPFL
Kwara United's Afred thumbs up Enyimba performance in Ilorin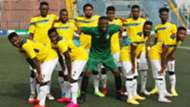 Kwara United striker Stephen Afred has praised Enyimba for giving them a good fight in the rescheduled league tie which ended 1-1 in Ilorin on Wednesday.
The Harmony Warriors had to comeback from a goal draw to draw at home to the People's Elephant and Afred who got his team's equalizer pointed out that it was difficult curtailing their visitors who played as if they were at home throughout the game.
"It was a difficult game for us because Enyimba had a good game and no one knows what could have been the final outcome if not for the effort put into it by us so that we do not surrender the maximum points to them," Afred told Goal.
"We went into the game full of optimism that we are going to get another home win and also improve our unbeaten run but Enyimba played the game of their lives and they made us to be under pressure for some part of the match.
"The draw is better than none and we shall go into our next away game with the mindset that we can also pick at least a point or even more just like we did against Sunshine Stars when no one gave us a chance."
The attacker is also thrilled at his scoring his seventh goal of the season after leveling up Enyimba's Ikechukwu Ibenegbu's first half goal and he has promised to get more to ensure that Kwara United leave the relegation zone.
"It is always a thing of joy to score goals and having got my seventh against Enyimba, I am happy and I can only say that I hope to get more goals for my club. We are not happy about our position in the league and we are doing everything possible to move away from the relegation zone.
"We know that it is still in our capacity and we are going to do just that right from our next game with Enugu Rangers in Enugu. We must put the draw against Enyimba behind us and be fully ready for them on Sunday," he stressed.