Kwadwo Asamoah
Kwadwo Asamoah reveals time for Ghana return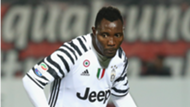 Ghana midfielder Kwadwo Asamoah says a return to the national team is imminent after three years in the wilderness.
The Juventus man has maintained focus on club football due to a series of recurrent injuries.
He last played for the Black Stars in an Africa Cup of Nations qualifier against Uganda in September 2014.
"Well, very soon, I will join the team," Asamoah said at the Calcio Trade Ball in Accra on Tuesday.
"I left the team due to injuries and I needed to get better because I knew that the nation had more talent. 
"Even in my absence, I see that the team has replacements and I am happy that I am doing well now."
Asamoah seems to have finally put his injury troubles behind him, having made 18 league appearances, involving 16 starts, for Juventus last season.
Eighteen games remain his highest season tally in the last three campaigns.
"I did not want to come back to the team when I was half-fit," Asamoah added.
"I want to come back while I'm playing regularly and doing well with my club. 
"Within a short time, I will join the team again."
Asamoah, who played for Ghana at the 2010 and 2014 Fifa World Cup tournaments, could return to national duty when the Black Stars host Congo in the 2018 World Cup qualifiers in August.