Other Competition Matches
Konadu eyes Niger scalp in Wafu Cup semi-finals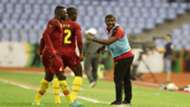 Ghana coach Maxwell Konadu believes his players will be ready to face Niger in the semi-finals of the 2017 Wafu Cup of Nations at the Cape Coast Sports Stadium on Thursday.
The Black Stars qualified as leaders of Group A despite a shock 2-0 defeat to Nigeria in their last group game on Monday, which Konadu ascribed to injuries.
However, his team appears to be match-ready to take on the Menas in their upcoming fixture.
"We will do our best to win against Niger. We have to approach it with all seriousness. The team was demoralised after the defeat [to Nigeria] but we have been able to do a lot on them mentally to get them back to their feet," Konadu told Graphic Sports.
"We have encouraged them not to lose confidence but remain resolute and make sure nobody make them feel inferior.
"The team was playing well and winning all of their games and all of a sudden, because of injuries, this problem (the defeat against Nigeria) happened. Naturally, they will be down," he added.
Konadu believes they would take their revenge on Nigeria if both teams meet in the final.
"The story would be different if we meet them (Nigeria) for the second time. I am praying to have all my players fit for that game and they would see a different team altogether.
"I think if the squad size had been increased it would have minimised injuries and pressure on the players to play matches after matches with few days to recover."
Nigeria will play Benin in the other semifinals game and the final has been slated for Sunday.
Fox Sports holds exclusive rights to the 2017 Wafu Cup of Nations.