Singida United
Kiseke: Results haven't gone our way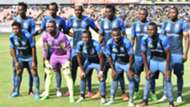 Singida United midfielder Deus Kaseke has called for his side to show character and ambition in order to secure a top four spot in the Premier League this season.
United was defeated 1-0 by Azam FC and left the club fourth with 37 points.
Speaking to Goal Kiseke conceded that the league is too tight but they will try to fight in order to finish in the top four of the Premium League this season.
"Top four is our ambition, but we've put ourselves in a difficult situation and we now have to work hard. The results haven't gone our way since the Ruvu Shooting game and we're in a tough spot we need to show the same character and ambition we did today to finish in the top four."