African All Stars
Kenyan striker Dennis Oliech starts trials with top South African club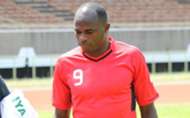 Dennis Oliech has started trials with South African club Free State Stars as he seeks to sign a contract.
The Harambee Stars striker has been clubless since leaving French football but according to coach Luc Eymael they are monitoring whether to give him a short term contract.
"Yes he trained on Friday with the group after he did a fitness test and result was not bad at all. On Saturday we played a match so he trained at the gym on his own. On Monday, players are free so he will train at gym again," Eymael told Goal on Monday.
Asked whether he was impressed with the first training session of the Kenyan star, Eymael said, "He has skills yes...he seems to be interesting but let me see after some trainings because I can't give opinion after only one session."
Eymael added, "Tomorrow (Tuesday) he will have training at the pitch with fitness coach and Wednesday he will again train with the group because we are restarting on Wednesday."
Dennis Oliech's goal against Cape Verde in 2003 put Kenya through to the Africa Cup of Nations finals in Tunisia.
He joined the national team Harambee Stars as a youngster in 2002 playing his last game in 2015 when Kenya lost to Zambia in a 2017 Afcon qualifier in Nairobi.
Free State Stars is a South African club based in Bethlehem and plays in Premier Soccer League. Formerly known as Makwane Computer Stars and Qwa Qwa Stars, their most significant honour is winning the 1994 Coca-Cola Cup.