Transfers
Katlego Ntsabeleng leaves Kaizer Chiefs for USA's Coastal Caroline Chanticleers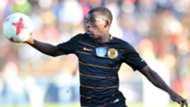 After grabbing the attention of the masses during last season's MultiChoice Diski Challenge (MDC) and inaugural MultiChoice Diski Shield (MDS), Kaizer Chiefs starlet Katlego Ntsabeleng has earned himself a carrer-defining move to the United States of America (USA).
River Ntsabeleng, a father and the manager of the 21-year old marksman, confirmed that the player has inked a lucrative two-year deal with Coastal Caroline Chanticleers which represent Coastal Carolina University in the Sun Belt Conference.  
According to Ntsabeleng senior, the former University of Johannesburg stundent also clinched a two-year scholarship which is expected to fall through should he fail to achieve positive results.
Elaborating on Katlego's departure, Ntsabeleng said to Goal: "It all started at the time when South African-born Chanticleers assistant coach Kyle Timm attended one of Varsity Football Cup games where Katlego scored an astonished goal."
"From that game, they started to follow his supreme technical ability which assisted the national side to secure a 2-1 victory over Lesotho in the final of the 2017 Cosafa Under-20 Championships," he explained.  
"I would like to pay my huge gratitude to Chiefs for believing in Katlego. I don't have any doubts that soon he will overcome the challenges that come with being on foreign country. I also hope that he can keep making the fans happy," said Ntsabeleng's father.
Apart from being in the Chiefs MDC team, Katlego made an impression earlier this year, netting a crucial strike which saw his side record a 3-1 victory over Mamelodi Sundowns to lift the MDS Cup.
He also walked away with the man of the match award following his scintillating display on the day.
Katlego, who hails from Daveyton, is set to follow in the footsteps of Thabiso Khumalo, who joined the Coastal Carolina University side in 2016 from School of Excellence.
Another South African star that is playing in the US is Durban-born player Lindokuhle Mfeka, who last year made his Major League Soccer (MLS) debut for San Jose Earthquakes.