Transfers
'Kane must leave Spurs to win trophies' - Villas-Boas fuels Real Madrid transfer talk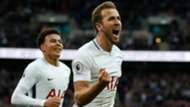 Harry Kane will need to leave Tottenham if he has "a hunger for trophies and notoriety", says Andre Villas-Boas.
The 24-year-old has forged a reputation as one of the most fearsome strikers in world football after stepping out of Spurs' academy system and earning a regular senior role.
He has, however, been unable to collect any major silverware as yet, with individual prizes such as two Premier League Golden Boots representing the peak of his award-winning exploits.
In order for that to change, it may be that he needs to head elsewhere, with former Spurs boss Villas-Boas – who loaned Kane out to Norwich and Leicester during his time in north London – fuelling speculation that a big-money switch to Real Madrid could be on the cards at some stage.
The Portuguese said at the Laureus World Sports Awards: "It depends on Harry and his ambitions for the future and how he sees his career going forward.
"If he has a hunger for trophies and for notoriety he would have to leave Spurs, if he has no hunger for that, but [wants] recognition and stability, he would stay at Spurs.
"Spurs are in that breakout moment of becoming a great football team - the [new] stadium, infrastructure, training ground is there, the team is building up, very well managed.
"The trophy cabinet is still what is missing for this great club. That is in the end what footballers chase - glory, winning.
"I think for Harry, one or two more years at Spurs wouldn't be bad and then see how the club develops.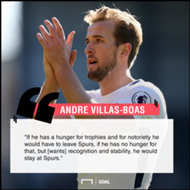 "With the new stadium coming through I also think that Spurs should have that margin from him."
Kane has previously moved to commit his future to Tottenham, with the home-grown star happy in his current surroundings.
He told German publication Bild when quizzed on the exit talk: "My goal is to play my entire career only for Tottenham.
"We have a fantastic team, a great coach, a professional training centre and we're getting a new stadium. At the moment, everything suits me here and I'm happy."
Spurs will, however, have to prove that they can match his ambition if a player who is still just 24 years of age is to avoid seeing his head turned by mounting interest from afar.