Transfers
Kaizer Chiefs transfer update: Traore released, Mthembu in advanced talks with Bloem Celtic
The Glamour Boys have sent Traore back to his team, while Mthembu is closing in on a loan move to Phunya Sele Sele, the club confirmed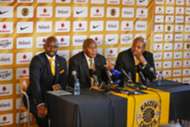 Football manager Bobby Motaung has confirmed that talks between Kaizer Chiefs and Bloemfontein Celtic over the transfer of Siphelele Mthembu are at an advanced stage. 
Mthembu has been training with Phunya Sele Sele in an effort to try and convince their technical team that he deserves a contract. 
Motaung said while nothing has been finalised, the proposed six-month loan deal should be completed in the near future. 
"The talks with Celtic for the loan deal of Mthembu are at an advanced stage," Motaung told the Amakhosi website. "We hope to conclude the deal soon," he said.
Meanwhile, the Soweto giants revealed that they have agreed to release Ivorian player and trialist Ismael Olivier Traore back to his team.
Venezuelan striker Gustavo Paez, as well as defenders Pedro Henrique Dias de Amorim from Brazil and Miracle Gabeya from Malawi continue to train with the first team, and Motaung said they will make a decision on their futures when the team returns from their mid-season camp in Potchefstroom next week. 
"We have released the Ivorian player, Ismael Olivier Traore, back to his team. We will assess the remaining players in the next week before we come to a conclusion," he continued. 
"We will receive a full report from the coach when the team returns from the training camp. We will update the supporters on any news by the end of January," added Motaung.
Motaung took time to welcome Lorenzo Gordinho back to the team following his week-long trial in Denmark, adding that they are yet to receive communication from Aalborg BK on whether or not they will sign the 22-year-old defender. 
"We allowed Lorenzo to go on trial at the Danish outfit Aalborg BK. We welcome Lorenzo back. At the moment we have not received communication on the outcome of his trial. He is still contracted to us. So, we will look at the offer if it is presented and take it from there," Motaung concluded.