Kaizer Chiefs
Kaizer Chiefs should take advantage of the chemistry between Castro and Paez, says Komphela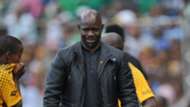 Kaizer Chiefs recently needed to come from behind as they overcame a gutsy Baroka FC 2-1.
While Amakhosi striker Ryan Moon continued his fine goal scoring form as he bagged the equaliser, all praise was reserved for new signing Leonardo Castro who endeared himself to the Soweto giant's fans by scoring the winning goal on debut.
Nonetheless, speaking after the clash, Chiefs' coach Steve Komphela heaped praise on the Colombian, and suggested that there is still more to come from both of his January signings, Castro and Siphelele Ntshangase.
"He did well, he did well," Komphela was quoted as saying by News24.
"And the beautiful thing about strikers, if they score the confidence goes higher. We are happy for them, let them score.
"With Castro, and Ntshangase as well, he will get to the level where you feel they are our fabric, they are our cloth," Komphela said.
"As it is now, they are still finding their way as to who we are. It doesn't come easy and it's worse when you get players in-season, integration is very difficult. But it looks like it's swifter now and it is good that results are forthcoming," he added.
Meanwhile, the 50-year-old believes that despite Venezuelan Gustavo Paez's barren goal scoring run, he will eventually go on to form a formidable attacking partnership with his South American compatriot.
"[Paez is] happy that his teammates are scoring because there is one ball he drew back, if Moon wasn't in the right place he would not have scored that one," he said.
"Paez does a lot of work. Now that he has found Castro, there is also an issue of language, can they speak Spanish together? Can they hit it off? They are both South American, we should take advantage of that chemistry and camaraderie," he explained.
"I'm sure he will be okay. We just don't have to put him under too much pressure. The beauty of it is the rest of the others are scoring," he concluded.